On Wednesday, the 3rd of November 2021, Mr. Jean-Jacques Bouflet – EuroCham Vice Chairman in charge of Advocacy attended the online launching workshop about
"One-Year Implementation of EVFTA: Impacts on the Vietnamese Economy and Policy Formation"
, which is hosted by VEPR (Vietnam Institute for Economic and Policy Research) and KAS (Konrad- Adenauer- Stiftung).
(Mr. Jean-Jacques Bouflet spoke at the launching workshop)
The online launching webinar welcomed  Dr.Frauke Schmitz-Bauerdick – Director of Germany Trade and Invest (GTAI) in Hanoi, Dr Le Dang Doanh - Director of the Central Institute for Economic Management (CIEM); Dr Le Quoc Phuong – High Senior Research Fellow, Former Director-General, Vietnam Industry and Trade Information Center – Ministry of Industry and Trade; Dr. Vu Thanh Huong, Head of Department of World Economy and International Economic Relations, University of Business and Economics and Mr. Weert Börner - Deputy Ambassador, Head of Economic Department of the German Embassy in Hanoi as commentators for the study.                     
After almost 10 years of negotiations, the Europe-Vietnam Free Trade Agreement (EVFTA) was signed in June 2019 and has enter into force since 1 August 2020. The EVFTA is expected to bring many direct benefits to the Vietnamese economy through higher growth, greater trade, and faster poverty reduction. After more than a year since the EVFTA has been implemented, the trade relationships between Vietnam and Europe have had positive improvement, despite the negative impacts of the COVID-19 epidemic.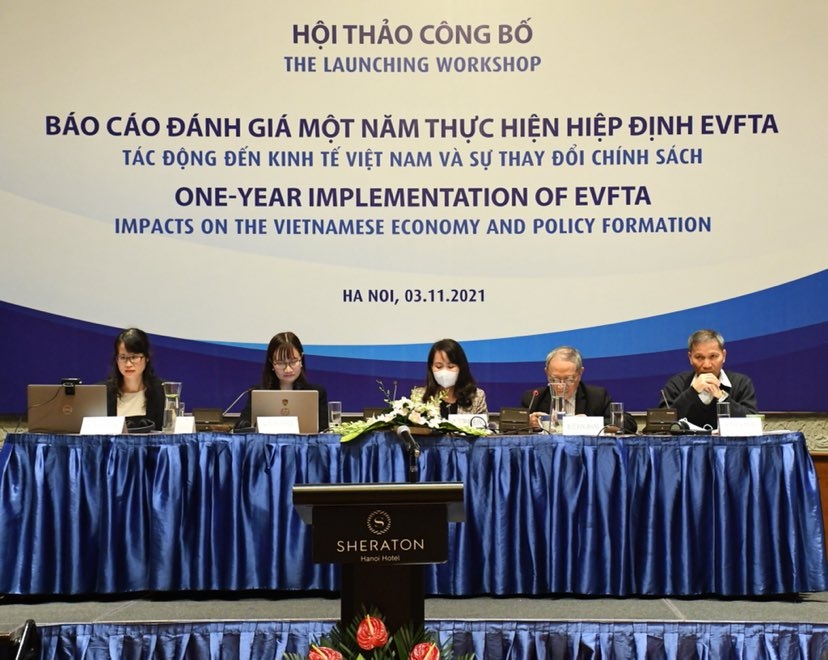 The study focuses on assessing EVFTA's impacts on Vietnam's economy in the first year of implementation from August 1, 2020, to August 1, 2021. Estimating the impact of the Covid-19 pandemic on Vietnam's exports to the EU as well as producing policy recommendations for Vietnam to take advantages and meet the requirements of EVFTA.
                 
As a Panelist and on behalf of EuroCham Vietnam, Mr. Jean-Jacques Bouflet shared the assessment on the implementation of the EVFTA as well as recommendations to Vietnamese Government and Vietnamese enterprises to take advantages of this important FTA and to fully unlock its potential.