[HN] EuroCham Field Trip to Bac Giang
[HN] EuroCham Field Trip to Bac Giang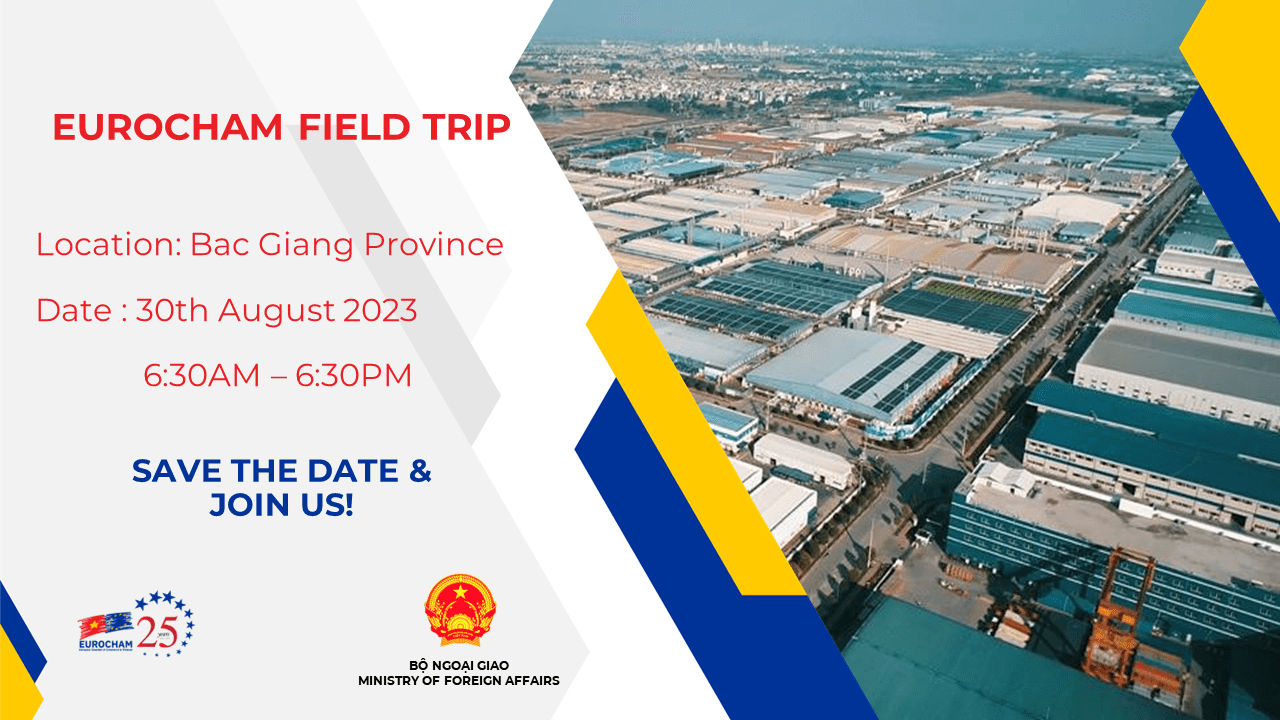 Save the date and join EuroCham on the upcoming Field Trip to Bac Giang on the 30th of August. During the trip, we will attend a meeting named "New developments and trends of the world economy affecting the production, export and investment attraction of provinces in the Northeastern Midlands with focuses on new EU Regulations (CBAM, EUDR, Corporate Supply Chain). The meeting will take place at the People's Committee of Bac Giang Province, with the participation of the Leader of the Ministry of Foreign Affairs, Leader of the People's Committee of Bac Giang Province, Delegation of the European Union to Vietnam. We will also visit Van Trung Industrial Park, Synergie CAD Vietnam Factory before heading back to Hanoi.
Details of the event:
• Date & time: Wednesday, 30th August 2023, 6:30 AM – 06:00 PM
• Fee (breakfast, lunch & transportation included):
EuroCham members: 800,000VND/pax
Non-members: 1,000,000VND/pax
• For more information and registration, please contact Ms. Phi Anh at: phianh.nguyen@eurochamvn.org
The event is first come, first serve and limits the number of participants so please register as soon as you can.
Please note that cancellation must be made at least 48 hours before the event; otherwise, a full charge (VND 800,000/pax for members, VND 1,000,000/pax for non-members) will be applied due to obligation with the service providers.
Hourly Schedule
30th August 2023
6:30

-

8:30

Gather at EuroCham Hanoi Office (Horison Tower, 40 Cat Linh, Dong Da District, Hanoi) and move to the People's Committee of Bac Giang Province
8:30

-

9:00

Registration
9:00

-

9:05

Introduction
9:05

-

9:15

Opening remarks

Leader of the Ministry of Foreign Affairs
9:15

-

9:25

Welcome remarks

Leader of the People's Committee of Bac Giang province
9:25

-

9:30

Remarks

Leader of EuroCham Vietnam
9:30

-

9:50

Global trends in setting new standards for carbon pricing, sustainability and responsible business practices in international trade and investments

Department of Economic Affairs, Ministry of Foreign Affairs
09:50

-

10:35

Introduction to new EU standards The Carbon Border Adjustment Mechanism (CBAM), EU Deforestation Regulation (EUDR), and Corporate Supply Chain (Due Diligence-DD)

Delegation of the European Union to Vietnam
10:35

-

10:45

Coffee break
10:45

-

11:45

Discussion: Discussion on impacts and policy recommendations for local governments and businesses

Moderator: Department of Economic Affairs, Ministry of Foreign Affairs Panelists: - Delegation of the European Union to Vietnam - European Chamber of Commerce in Vietnam (Eurocham) - Representatives of local agencies, associations, and businesses in the northern provinces
11:45

-

12:00

Closing remarks

- Leader of People's Committee of Bac Giang province - Leader of the Ministry of Foreign Affairs
12:00

-

14:00

Lunch
14:00

-

14:30

Meeting with the Leader of People's Committee of Bac Giang province
14:30

Field trip: Van Trung Industrial Park and Synergie CAD Vietnam Factory
17:00

Depart to Hanoi (EuroCham Hanoi Office - Horison Tower, 40 Cat Linh, Dong Da District, Hanoi)