[HN] EuroCham Field Trip to Ha Nam Province
[HN] EuroCham Field Trip to Ha Nam Province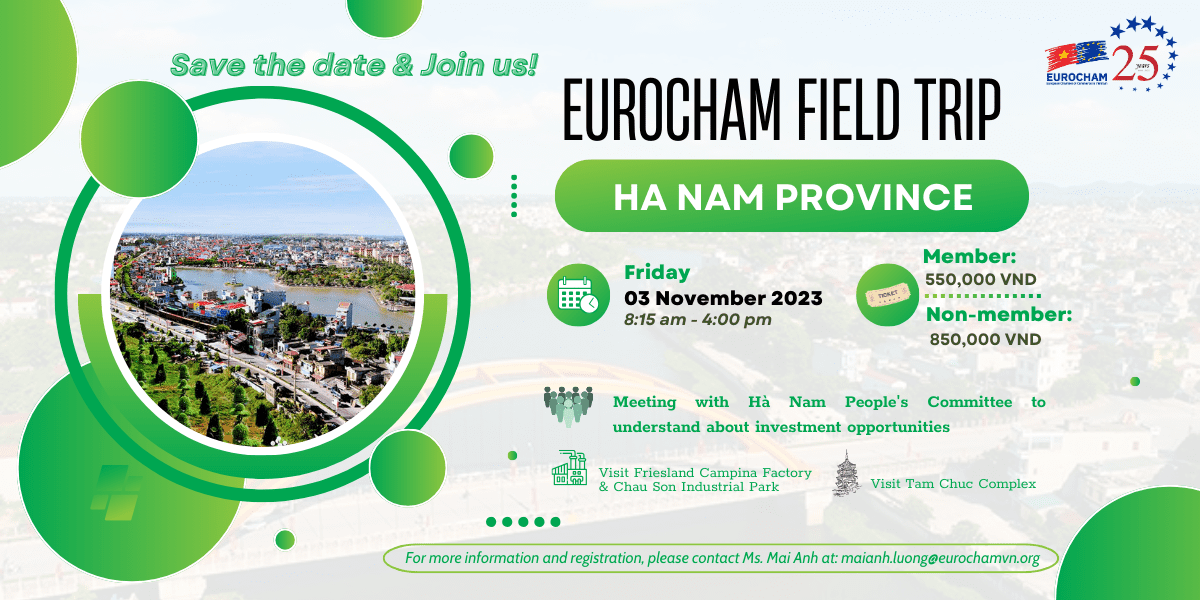 Save the date and join EuroCham Field Trip to Ha Nam Province on November 3rd 2023. This Field Trip will give participants valuable chance to meet with Ha Nam People's Committee to understand about investment opportunities in this province. During the trip, there will be meeting with enterprises in Chau Son Industrial Park including FrieslandCampina Company Limited and Casla Joint Stock Company. This can act as a key factor to help you extend your networking and know more about Ha Nam Province. 
Location: Ha Nam province
Time: 8:15 am – 4:00 pm
Ticket fee: Member of EuroCham: 550,000 VND ; Non-member of EuroCham: 850,000 VND
Due to the limited number of seats, pre-registration is required and on first come first served basis.
*Please note that cancellation must be made at least 48 hours before the event; otherwise, full charge (550,000VND/pax or 850,000VND/pax) will be applied due to obligation with venue.
For more information and registration, please contact Ms. Mai Anh at: maianh.luong@eurochamvn.org
Hourly Schedule
03/11/2023
From 7:45 am

-

To 8:15 am

Check-in session

EuroCham Ha Noi Office: Horison Towers, 40 Cat Linh, Ha Noi
From 8:15 am

-

To 9:30 am

Depart from Ha Noi to Ha Nam Province
From 9:30

-

To: 10:45 am

Meeting with Ha Nam People's Committee

90 Tran Phu Street, Quang Trung, Phu Ly City, Ha Nam
From: 10:45

-

To: 11:00 am

Visit enterprises in Chau Son Industrial Park

Chau Son Industrial Park: Lot CN16.2, Chau Son Ward, Phu Ly City, Ha Nam
From: 11:00 am

-

To: 12:00 pm

Meeting with FrieslandCampina Company

FrieslandCampina Company: Chau Son Industrial Park, Le Hong Phong Ward, Phu Ly City, Ha Nam
From: 12:00 pm

-

To: 1:00 pm

Meeting with Casla Joint Stock Company

Casla Joint Stock Company: Chau Son Industrial Park, Chau Son Ward, Phu Ly City, Ha Nam
From: 1:00 pm

-

To 2:00 pm

Lunch served at Vinpearl Phu Ly

60 Bien Hoa Street, Minh Khai Ward, Phu Ly City, Ha Nam
From: 2:00 pm

-

To: 3:00 pm

Visit Tam Chuc Complex (tbc)

Ba Sao Town, Kim Bang District, Ha Nam
From: 3:00 pm

-

To: 4:00 pm

Return to Ha Noi