EuroCham Field Trip to Ben Tre
EuroCham Field Trip to Ben Tre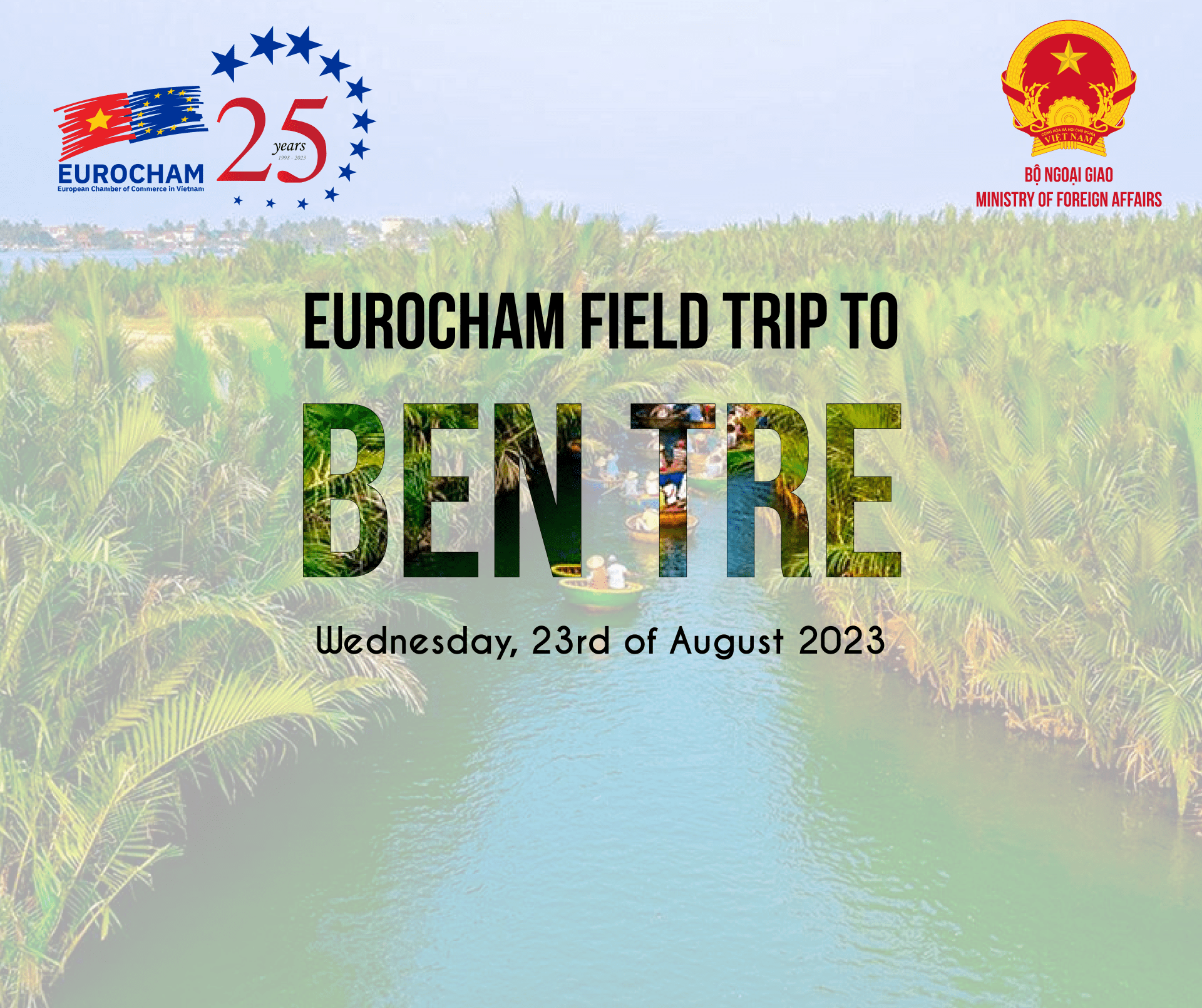 EuroCham would like to invite you to join us in this upcoming Field Trip to Ben Tre on the 23rd of August. During this trip, we will attend the seminar "New developments and trends of the world economy affecting the production, export and investment attraction of provinces in the Mekong Delta" at People's Committee of Ben Tre province with the participation of Leader of the Ministry of Foreign Affairs, Leader of People's Committee of Ben Tre province and Delegation of the European Union to Vietnam. We will also have the chance to visit Luong Quoi Coconut Co.,Ltd before heading back to HCMC.
Details of the event:
• Date & time: Wednesday, 23rd of August 2023, 7:00AM – 07:00PM
• Fee (breakfast, lunch & transportation included):
          EuroCham members: 800,000VND/pax
          Non-members: 1,000,000VND/pax
• Registration (first come first serve basis): please contact Ms. Nhung at nhung@eurochamvn.org
*Please note that cancellation must be made at least 48 hours before the event; otherwise, full charge (800,000VND/pax or 1,000,000VND/pax) will be applied due to logistics obligation.
Hourly Schedule
Wednesday, 23rd of August
7:00

-

9:00

Gather at Deutsches Haus HCMC and depart to Ben Tre Province
09:00

-

09:30

Registration
9:30

-

9:35

Introductions
9:35

-

9:45

Opening remarks

Leader of the Ministry of Foreign Affairs
9:45

-

9:55

Welcoming remarks

Leader of People's Committee of Ben Tre province
9:55

-

10:00

Remarks by Leader of the European Chamber of Commerce (EuroCham)
10:00

-

10:20

Global trends in setting new standards for carbon pricing, sustainability, and responsible business practices in international trade and investments

Department of Economic Affairs, Ministry of Foreign Affairs
10:20

-

10:50

Introduction to new EU standards: The Carbon Border Adjustment Mechanism (CBAM), EU Deforestation Regulation (EUDR), and Corporate Supply Chain (Due Diligence-DD)

Delegation of the European Union to Vietnam
10:50

-

11:00

Coffee break
11:00

-

11:50

Discussion on impacts and policy recommendations for local governments and businesses

Moderator: Department of Economic Affairs, Ministry of Foreign Affairs | Panelists: Delegation of the European Union to Vietnam ; European Chamber of Commerce in Vietnam (Eurocham) ; Dr. To Xuan Phuc, Program Director of Forest Trend's Trade Policy and Resource Management Program, the U.S. (Online) ; Representatives of local agencies, associations and businesses in the Mekong Delta region
11:50

-

12:00

Closing remarks

Leader of People's Committee of Ben Tre province ; Leader of Ministry of Foreign Affairs
12:00

-

14:00

Lunch
14:00

-

14:30

Meeting with Leader of People's Committee of Ben Tre province
14:30

-

17:00

Field trip: Visit Luong Quoi coconut Co.,Ltd
17:00

-

19:00

Return to Deutsches Haus HCMC