[Webinar] CBAM: What does it mean for your business?
[Webinar] CBAM: What does it mean for your business?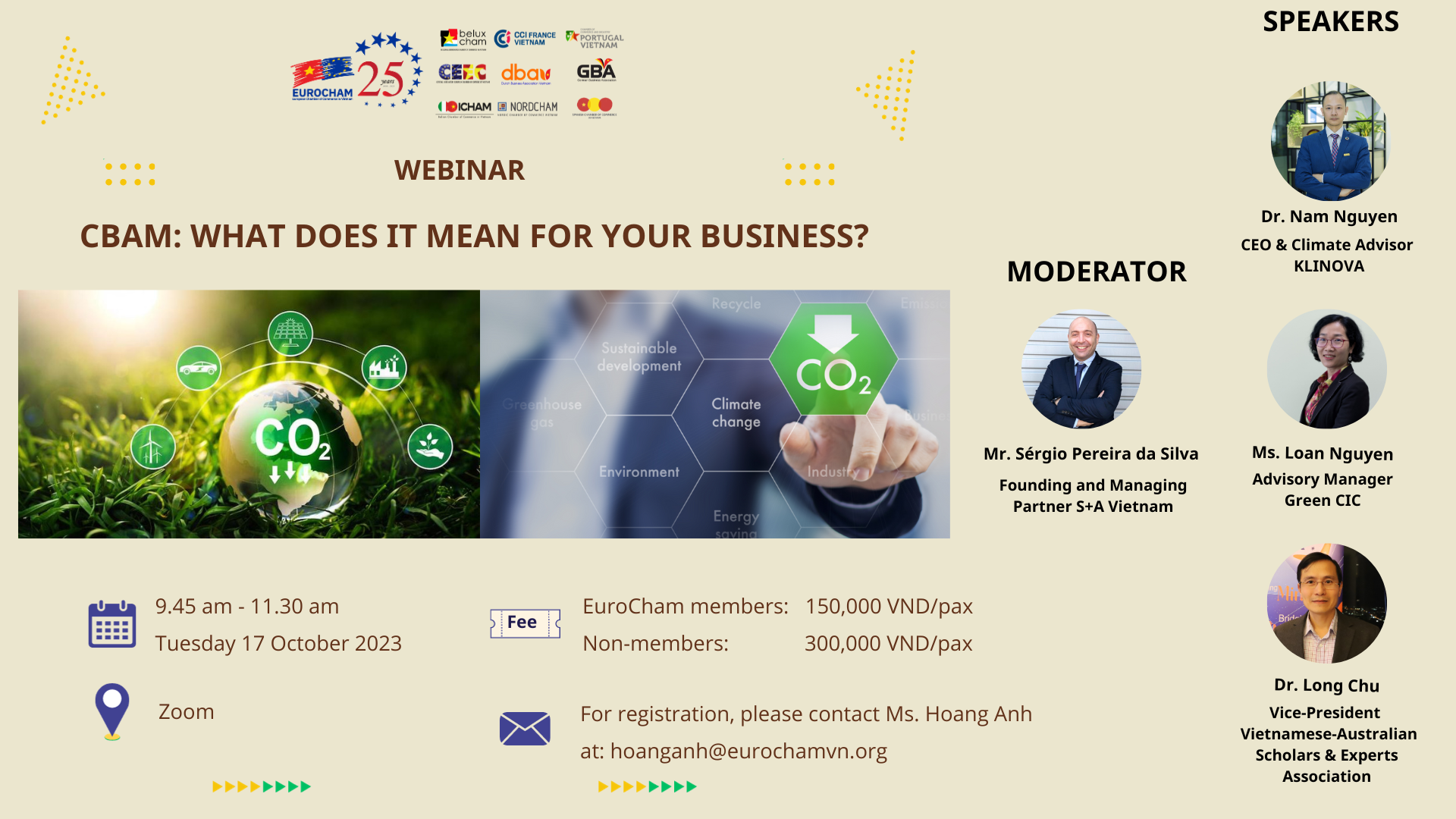 On April 18, 2023, the European Parliament formally approved the Carbon Border Adjustment Mechanism (CBAM) and it will be implemented during a three-year transition period, starting from 1 October this year until the end of 2025. CBAM will essentially levy a carbon price on certain carbon-intensive imports into the EU. It is expected to have a significant impact on various sectors of the Vietnamese economy.
Join the EuroCham Webinar named "CBAM: What does it mean for your business?" to gain more insight on this topic:
• Overview on CBAM
• Estimated CBAM impact on Vietnam (E.g. Vietnam's exports to the EU market, Vietnam's manufacturing industry, Vietnam's carbon-neutral goal, etc.)
• Will the scenario of other markets such as the United States, Japan, etc. introduce their own mechanisms to reduce GHGs on imports happens?
• What should we do to prepare for CBAM's implementation?
Details of the event:
• Date & Time: Tuesday, 17th October 2023, 9.45 am – 11.30 am
• Platform: Zoom
• Fee:
EuroCham members: 150,000VND/pax
Non-members: 300,000VND/pax
• Contact: Ms. Hoang Anh at hoanganh@eurochamvn.org for more information and registration
Speakers
Loan Nguyen

Advisory Manager of Green CIC

Since 2011, Loan has been the Advisory Manager at Green Climate Innovation Company Limited (GreenCIC) – a leading Vietnamese consultancy in the field of climate change and low-carbon transition. She holds a Master's degree in Development Policies and Practices from the Geneva Graduate Institute in Switzerland. She has over 12 years of experience working as a climate change policy expert and leading a large number of projects in the energy and environment sector in Viet Nam. Her areas of expertise include climate change policies, GHG mitigation, carbon pricing, carbon market development, and renewable energy. She has demonstrated long working relations with the Ministry of Industry and Trade (MOIT), Ministry of Natural Resources and Environment (MONRE), Ministry of Finance, and other governmental agencies, and international organizations. She also provides advisory services to the private sector on GHG emission reduction and decarbonization strategies.
At the moment, Loan is undertaking the role of Climate Change Expert for a technical assistance on the Impact Assessment of the EU's Carbon Border Adjustment Mechanism (CBAM) and Recommendations on Carbon Tax Design for Viet Nam, which is funded by ETP-UNOPS and implemented by a consortium led by GreenCIC. She is also leading several projects related to the development of the domestic carbon market and market-based instruments.

Long Chu

Vice-President of the Vietnamese-Australian Scholars & Experts Association (VASEA)

Long is an Associate Professor at the Crawford School of Public Policy at the Australian National University (ANU), a Vice President of the Vietnamese Australian Scholars & Experts Association in charge of Policy, Trade & Investment for Public Sectors, and the founder of Applied Economic Modelling & Data Analysis (AEMDA) – a high-profile establishment specializing in applied economic modeling, quantitative analysis, and data analysis. Long is an applied economic modeler and data analyst with multiple coveted awards for his modeling research, such as the Eureka Prize in Australian science and the Prize for the Quality of Research Discovery presented by the Australasian Agricultural & Resource Economics Society. He teaches applied economics to Masters and PhD students at the ANU, including CGE Modeling for Policy Impact Evaluation. His research aims to support sustainable decision-making in various fields, including international trade, green growth strategies, structural reforms, biosecurity, and sustainable development.
In the technical assistance on the Impact Assessment of the EU's Carbon Border Adjustment Mechanism and Recommendations on Carbon Tax Design for Vietnam, he works as the Data Modeling Expert and leads the component on the quantitative impact assessment of CBAM.

Nam Nguyen

CEO & Climate Advisor of KLINOVA

Dr. Nam is a senior advisor in environmental-related issues, focusing on climate change with over 17 years working closely with sustainable development partners and Vietnamese governmental agencies. He was the techincal lead on developing of the Vietnam National Greenhouse Gas Inventory Reports.

Dr. Nam is a member of the editing broad of Journal of Vietnamese Environment since 2016 and the UNFCCC reviewer for National Communications since 2017. Besides, he is also the UNFCCC reviewer for mitigation actions and affects; finance, technology and capacity building needs and support received of developing couhtries as well as being the UNOPS Advisor of Initiative on Climate Action Transparency (ICAT) since 2021.

Dr. Nam worked for Climate Change Department (DCC) of Ministriy of National Resources and Environment (MONRE) for 6 years and the C40 Climate Leadership for Cities Group for 3 years. Dr. Nam earned his PhD at Bonn University, Germany in 2012.

From 2021 to nowday, Dr. Nam is the Founder and CEO of Climate Innovation Consulting & Services KLINOVA JSC.

Sérgio Pereira da Silva

Founding and Managing Partner at S+A Vietnam

Sérgio Pereira da Silva is Chairman of CCIPV (Chamber of Commerce and Industry Portugal – Vietnam), he is also head of the Sustainable Buildings Working Group of Green Growth Sector Committee of EuroCham Vietnam, founding and Managing Partner S+A Vietnam and an architect

Ph.D. Student in Social Sustainability and Development, with a Degree in Architecture, OA, RIBA, LEED GA. Founding and Managing Partner at Saraiva + Associados, Vietnam.

Extensive knowledge of the bilateral relations between Portugal and Vietnam. He is responsible for coordinating the team, the institutional relations with European partners (namely EuroCham, AICEP, CCIP), contract management, and coordinating the internationalization of the Chamber's members.
Experienced in the following markets: Portugal, Algeria, Italy, Hong Kong, Macau, Cambodia, Myanmar, China, and The Philippines.