November 17, 2023
Charting a green future: highlights from the 2023 Mekong Connect Forum in Ho Chi Minh City
The 2023 Mekong Connect Forum, convened on 15 to 16 November in Ho Chi Minh City, brought together a diverse group of leaders, experts, and stakeholders, all united in their commitment to discuss and promote a green economy and sustainable development within Vietnam. Vice-Chairman Jean-Jacques Bouflet represented EuroCham and delivered a speech at the event..
Central to the forum's agenda was the creation of a supportive environment that encourages the business community's active participation in green initiatives. Discussions spanned a wide range of topics, from the development of recycling and carbon credits markets to strategies aimed at expanding the markets for Vietnamese products. The emphasis was also placed on promoting green consumption practices in society and fostering a transition towards green operations within the business sector.
A highlight of the forum was the address by Võ Văn Hoan, Deputy Chairman of the Ho Chi Minh City People's Committee. Hoan underscored the critical need for green growth and sustainable development, framing these not just as aspirational goals but as essential and irreversible global trends. He provided insights into the national strategy for green growth, aimed at shifting Vietnam's economic model to balance prosperity with environmental sustainability and social equality. Hoan's emphasis on the significance of economic restructuring, in harmony with a transformed growth model, set a tone for the event, highlighting the need to reduce environmental impacts while bolstering economic and social growth.
Deputy Chairman Hoan further called for a collaborative approach, urging governmental agencies, the business community, and society at large to work together in realizing these objectives. He championed the role of innovative green technologies and the necessity of adapting to and mitigating climate change, positioning his speech as a catalyst for active participation in Vietnam's green transformation.
Jean-Jacques Bouflet, Vice-Chairman of EuroCham, shared his perspective on Vietnam's green transition in the context of its commitments to international climate agreements such as the Paris Agreement and COP 26. Bouflet highlighted the importance of establishing a robust domestic carbon market in Vietnam, citing key legal frameworks like the 2020 Law on Environment Protection and Decree No. 06/2022/ND-CP as foundational elements for launching the carbon credit exchange by 2028.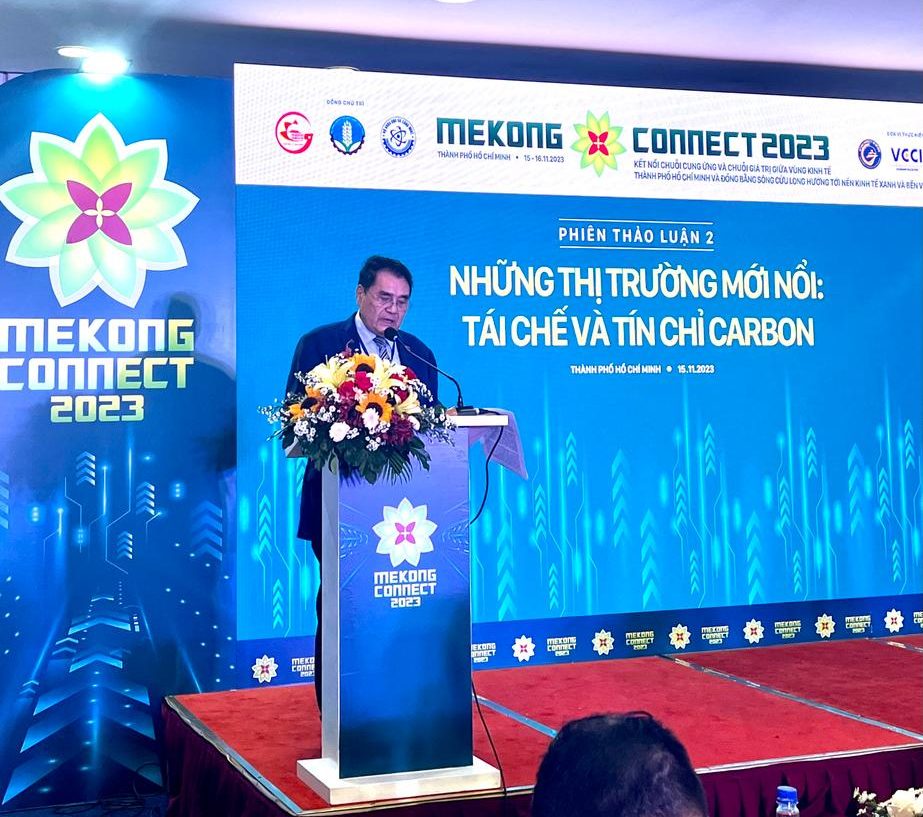 Mr. Bouflet then turned the focus to the economic benefits that Vietnam could reap from its participation in carbon markets, particularly emphasizing the potential of the forestry sector, renewable energy, and energy savings. He also delved into the implications of global carbon market mechanisms, such as the EU's Carbon Border Adjustment Mechanism (CBAM), for Vietnamese industries. Bouflet described the CBAM as a driving force that could propel Vietnam to align its industrial strategies with global sustainability standards, thereby boosting its global market competitiveness.
Concluding his speech, Mr. Bouflet reaffirmed EuroCham's dedication to supporting Vietnam's green transition. He underscored EuroCham's role in bridging the gap between the European business community and the Vietnamese government, contributing constructive feedback on legislation alignment with EU regulations, and promoting a sustainable green economy in Vietnam. Additionally, he highlighted EuroCham's upcoming Whitebook launch, a significant step in facilitating a more favorable investment climate in Vietnam.