May 04, 2023
EuroCham Board Member Stuart Livesey advocates for efficient and effective implementation of Vietnam's Power Development Plan VIII at Ministry of Industry and Trade dialogue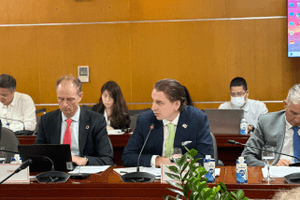 On May 4, an international consultation conference on Power Development Plan (PDP) VIII was held, with Deputy Minister of Industry and Trade Dang Hoang An presiding over the session. Over 60 domestic and foreign delegates were there, including representatives from various departments of the Ministry of Industry and Trade (MOIT), embassies, and international organizations. Stuart Livesey, EuroCham Board Member, delivered a speech highlighting EuroCham's advocacy positions.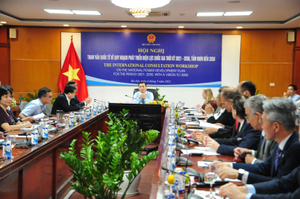 Speaking at the conference, Deputy Minister Dang Hoang An said:
Vietnam has faced greater challenges in finalizing PDPVIII due to its commitment at COP26 to achieve net-zero emissions by 2050 and its participation in the Just Energy Transition Partnership program (JETP).
Developing and completing PDPVIII requires international partners and organizations' support and assistance.
Following the government's presentations, senior energy experts from international firms and organizations presented their perspectives. In his speech, EuroCham Board Member Stuart Livesey said:
In order to provide wind energy investors with a clear path to market, PDPVIII must be implemented efficiently and effectively.
Keeping a balance between high-wind sites in the north and south of Vietnam is recommended.
The MOIT should work with independent consultants to verify assumptions and methodologies before finalizing offshore wind price brackets.
Launching pilot projects for the first 2 to 3 gigawatts of the 2030 target is one of the best ways to achieve a stable offshore wind regulatory system. Each of these pilot projects should have a capacity of 500 megawatts to 1 gigawatt.
A revision of the direct power purchase agreement (DPPA) is needed to accommodate the capital-intensive offshore wind industry and address issues that may prevent project financing requirements from being met.
Battery energy storage systems (BESS) are a viable option to bolster local industries and provide grid stability.
To attract investments and boost exports, Vietnam should establish a strong foundation for delivering green energy. This could include direct sales of green energy through power purchase agreements (PPAs) to high-energy demand manufacturers and suppliers.