May 29, 2023
EuroCham in the News
EuroCham in the News: May 22nd to May 28st
[VTV9] EuroCham Chairman Gabor Fluit shares insights on economic development and sustainability in Tay Ninh
EuroCham Chairman Gabor Fluit recently shared valuable insights on Tay Ninh's economic development during his appearance on VTV9. He highlighted key considerations for businesses when making investment decisions.
According to Mr. Fluit, seamless communication with local authorities is crucial for businesses seeking assistance with procedures and permits. This efficient approach enables companies to address operational challenges promptly. He also emphasized the significance of robust infrastructure, which plays a pivotal role in facilitating business activities.
In the pursuit of successful investment ventures, Mr. Fluit stressed the importance of collaboration between investment enterprises and local companies in the supply chain. Establishing strong relationships with farmers, for instance, was cited as a crucial aspect of this collaboration.
Factors such as access to renewable energy sources like solar and wind power were highlighted as key considerations for European companies aligning their operations with environmentally friendly practices.
To watch Mr. Fluit's insights firsthand, viewers can access his appearance by clicking here and skipping to 4:47 and 8:20.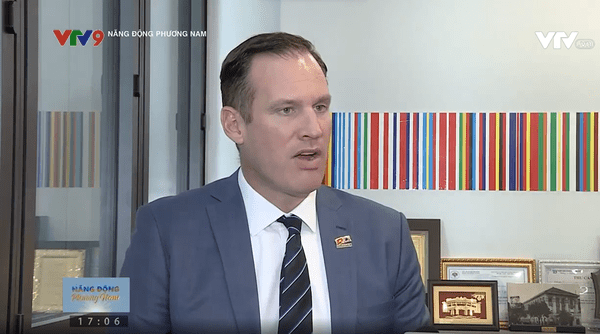 [VTV4] EuroCham Board Member Stuart Livesey discusses potential opportunities in Vietnam's renewable energy sector and the importance of action plans
EuroCham Board Member Stuart Livesey recently appeared on VTV4, where he discussed the approval of PDP (Power Development Plan) VIII in a segment dedicated to this topic. Mr. Livesey's insightful comments shed light on the potential opportunities and considerations associated with the plan.
During his appearance, Mr. Livesey highlighted the specific goals outlined in PDP VIII, which are expected to create numerous opportunities for developers and renewable energy suppliers interested in investing their time and resources in Vietnam. He emphasized the importance of seizing these opportunities to establish thriving businesses within the country.
Vietnam must consider the global and regional emphasis on renewable energy development, according to Mr. Livesey. With the world's growing focus on clean and sustainable energy sources, Vietnam has the opportunity to become a major player in the renewable energy supply chain. However, Mr. Livesey stressed the need for the government to prioritize the creation and execution of a clear action plan to maximize this potential.
To watch his appearance on VTV4, readers can click here and skip to the timestamp 6:25.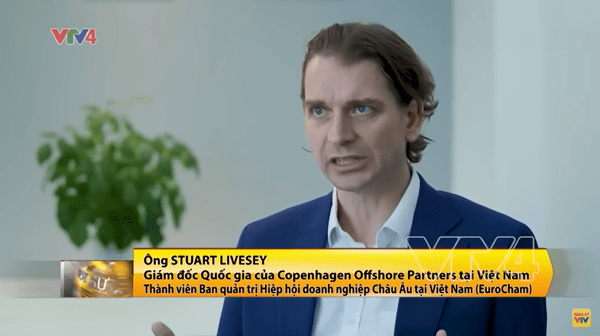 [Viet Nam News] Tây Ninh set to hold largest international investment forum.
In this article published by Viet Nam News, the media introduces the event of Tay Ninh's Business connection forum happening on June 2. Furthermore, they summarize the conference that was held on 25th of May to announce he details of the event.
EuroCham's Chairman, Gabor Fluit, was present as well as Tran Văn Chien, deputy chairman of the People's Committee and head of the organizing committee and Vũ Mạnh Hùng, vice chairman of the Vietnam Digital Agriculture Association (VIDA), chairman of Hùng Nhơn Group and another deputy head of the organizing committee.
"Fluit said: "EuroCham values the positive impact of agriculture on the development of the economy of Việt Nam in general and Tây Ninh Province in particular.
For members of EuroCham, this forum will open up priority access to useful information, a comprehensive picture of the regional economic context, upcoming projects and potential growth.
From there, businesses will have a decision to look for new investment opportunities in Tây Ninh. 
In this context, I am filled with confidence that the forum will ignite a powerful spark, fueling dialogue and fostering meaningful relationships between Team Europe and Tây Ninh. Through these connections, we have a great opportunity to actively foster technology transfer, knowledge sharing, and investment cooperation. This teamwork can be transformational, resulting in a leap forward in technological capabilities, an improvement in product quality, an expansion into international markets, the creation of jobs, and above all, strengthening Tây Ninh's position in global value chains.""
Dig further into the article by clicking here.