October 27, 2023
EuroCham presents on EU business opportunities at Quang Ngai investment promotion conference
A conference promoting investment in Quang Ngai was jointly organized by the Ministry of Foreign Affairs and the Quang Ngai Provincial People's Committee on 25 October. This event witnessed the presence of figures such as Deputy Minister of Foreign Affairs Nguyen Minh Hang, Secretary of the Quang Ngai Provincial Party Committee Bui Thi Quynh Van, and Quang Ngai Provincial Chairman Dang Van Minh.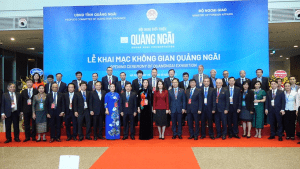 During the discussion session, attendees deliberated on subjects encompassing insurance, labor, and the specific investment and business policies of Quang Ngai province.
Representing EuroCham, Advisory Board Member Christian-Ludwig Weber-Lortsch accentuated the importance of EU businesses in central Vietnam and highlighted the potential opportunities Quang Ngai presents for EU enterprises.
Deputy Minister Nguyen Minh Hang voiced her conviction in Quang Ngai's vast potential, anticipating it to become a focal development center in Vietnam. The ministry also expressed its commitment to support regions, including Quang Ngai, in economic diplomacy. Their focus is on boosting connectivity with international partners, expanding export markets, and attracting foreign direct investments and official development assistance, particularly across sectors like tourism, sea-based economy, logistics, trade, and industry.
Notably, the ministry has been collaborating with EuroCham on events to advance this mission, such as with fieldtrips to the provinces to provide information to the Vietnamese business community about European Green Deal regulations such as the Carbon Border Adjustment Mechanism (CBAM).
Quang Ngai Provincial Chairman, Dang Van Minh, emphasized the province's strategic advantages, from its position in the Central Key Economic Region to its robust transport infrastructure and dynamic economy. He also highlighted future development plans, including establishing a national petrochemical and energy hub in the Dung Quat Economic Zone and promoting sea-island tourism on Ly Son island.
The conference also saw representation from key organizations such as JETRO, HKBAV, EuroCham, Binh Son Refining and Petrochemical Joint Stock Company, and Doosan Enerbility Vietnam Co., Ltd.