November 03, 2023
EuroCham's field trip unveils investment potential in Ha Nam Province
On 3 November, EuroCham Vietnam organized a field trip to Ha Nam, presenting our members with a unique perspective on the burgeoning investment opportunities within the province.
The day kicked off with a productive discussion with the Ha Nam People's Committee.
Gabor Fluit, the Chairman of EuroCham, reflected on the chamber's 25-year legacy, spotlighting our influential role in bolstering Vietnam's economic landscape by championing a conducive business climate.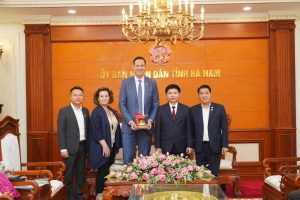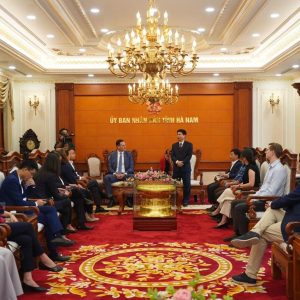 Mr. Fluit brought attention to the strategic significance of Ha Nam's geography, situated near Hanoi and key transport routes, thereby presenting it as an appealing prospect for enterprises. He particularly noted the province's appeal to EuroCham members eager to broaden their presence in northern Vietnam, especially in the manufacturing domain.
Vice-Chair Minh Nguyen emphasized the critical nature of commute times between Hanoi and potential investment sites, calling for robust infrastructure that caters to the operational needs of European entities and enhances the living standards of their workforce.
Local Ha Nam officials outlined their initiatives to fortify key areas such as industrial park facilities, connectivity solutions, and workforce development. The province is courting investment in high-tech industries like green tech, clean energy, AI, biotechnology, and semiconductor manufacturing, aiming to align with global technological advancements.
The itinerary included a tour of Chau Son Industrial Park, where participants observed the infrastructure and amenities on offer, painting a tangible picture of the region's readiness for business expansion. 
The group also met with FrieslandCampina, a prominent EuroCham member, discussing various aspects of conducting business in the area. A visit to Casla Joint Stock Company also showcased the industrial diversity in Ha Nam, with its focus on handbag production for the local market and artificial stone exports.
EuroCham's field trip underscores our dedication to nurturing economic development and unlocking investment potentials in Vietnam's dynamic provinces.