July 20, 2023
EuroCham's recommendations heard by Prime Minister at administrative reform meeting
Prime Minister Pham Minh Chinh chaired a pivotal meeting on administrative reform in Hanoi on July 19, with EuroCham as the sole foreign chamber invited. EuroCham seized the opportunity to convey the European business community's recommendations.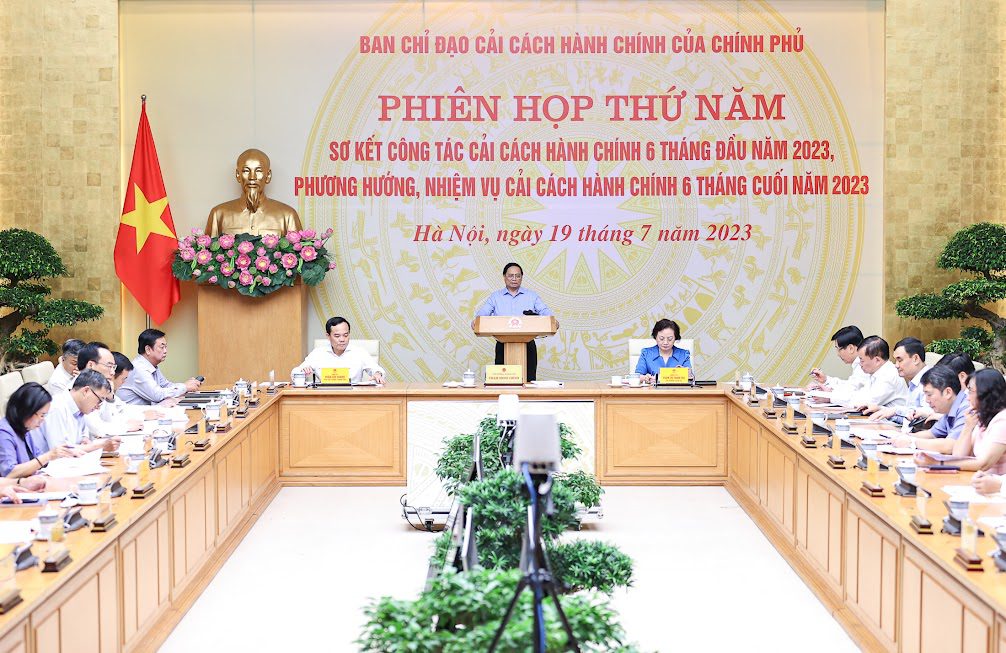 The meeting, which focused on a preliminary review of administrative reform progress in the first half of 2023 and outlined objectives for the remaining months, was attended by representatives from various government bodies, all 63 municipal and provincial People's Committees across Vietnam, and key domestic business associations. Representing EuroCham were Vice-Chairman Minh Nguyen, and Head of the EuroCham Hanoi office cum External Relations Manager Van Nguyen.
Under the leadership of Prime Minister Pham Minh Chinh, the Steering Committee for Administrative Reform convened for its fifth meeting to evaluate progress made thus far and lay out the strategies for the remainder of the year. During the meeting, EuroCham presented positions of the European business community. We emphasized the importance of embracing an open regulatory approach that allows businesses to pursue new opportunities while encouraging innovation for the common good.
The Prime Minister, acknowledging the significance of administrative improvements, outlined three priority areas for review: legal documentation, procedures that affect individuals and businesses, and civil servants responsible for implementing them.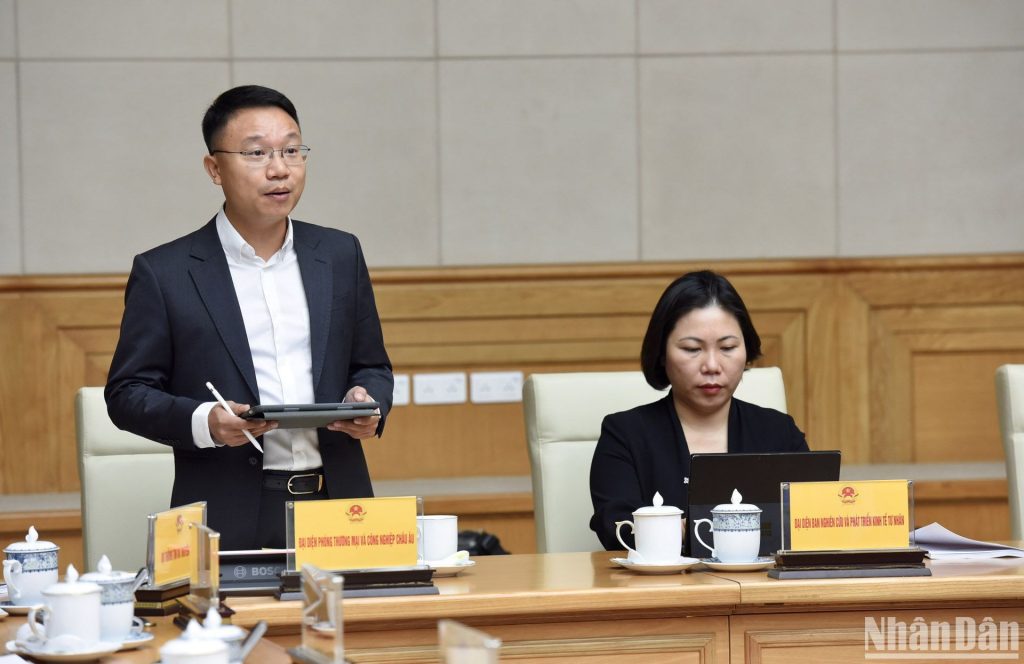 Photo credit: Mr. Tran Hai of Nhân Dân.
While EuroCham commended the government's efforts thus far, Vice-Chair Minh Nguyen drew attention to several key matters that require further attention, including:
Streamlining import/export procedures

: Addressing cumbersome on-the-spot customs clearance processes for businesses.

Work permits

: Amending Decree 152 to facilitate the hiring of qualified foreign experts.

Visa exemptions

: Extending eligibility to all 27 EU member countries, rather than just the current seven. EuroCham has actively advocated for this, and

sent a letter to the Prime Minister on this topic on June 12

.

Energy transition and renewables

: Implementing policies like direct power purchase agreements (DPPAs) to support Vietnam's net zero goal and assisting businesses in meeting new EU climate regulations, including the

Carbon Border Adjustment Mechanism (CBAM)

and

the EU Deforestation Regulation (EUDR)

. 
Administrative transparency

: Integrating business consultation tools into Vietnam's regulatory portal to facilitate enterprise-government engagement.
He also used the opportunity to spread the word about the Green Economy Forum (GEF) 2023 and the Green Economy Forum and Exhibition (GEFE) 2024.
The Prime Minister offered immediate feedback in response:
On

customs

, he said the government will facilitate any business activities not expressly prohibited by the law – signaling openness to streamline on-the-spot import/export procedures.

In terms of

work permits for foreigners

, he urged the Ministry of Labour, Invalids and Social Affairs (MOLISA) to maximize favorable conditions for experts and finalize the draft Decree 152 before July 25. The Prime Minister said MOLISA should keep a more open approach to bringing in high quality labor.

Addressing

visa-related matters

, the Prime Minister affirmed his support for issuing e-visas to all countries and expressed that the Ministry of Public Security will consider extending visitor visa exemptions to all EU nations. 

As per

renewables

, the Prime Minister confirmed Vietnam's commitment to comply with European regulations. He requested the Ministry of Industry and Trade prepare research and draft materials on renewable energy, as well as implement a direct electricity trading mechanism. 

He also endorsed EuroCham's suggestion to deploy the consultation portal with integrated

administrative procedure transparency

tools.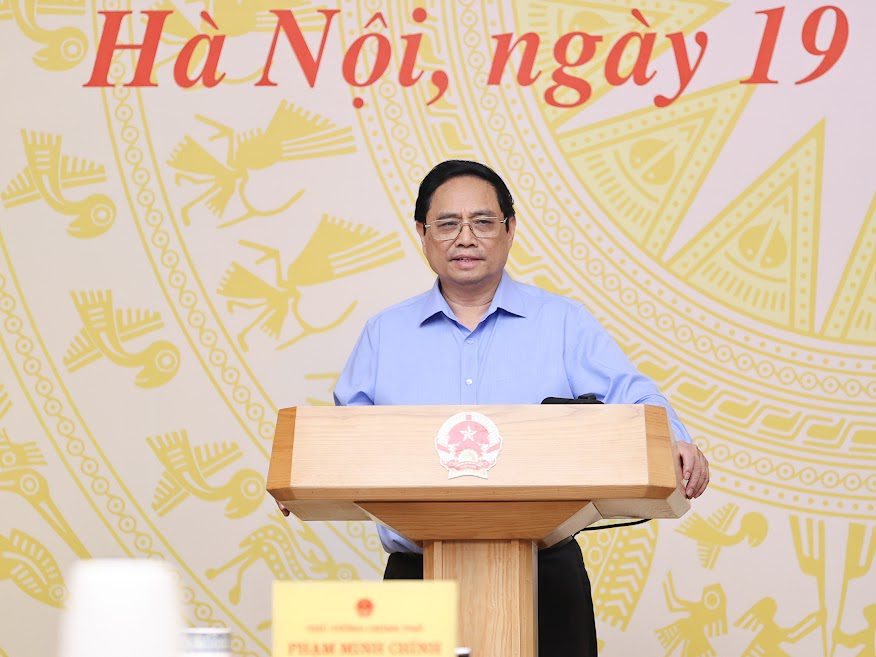 In his concluding remarks, the Prime Minister underscored the imperative of redoubling efforts in  advancing reforms for practical and efficient outcomes. Recognizing that resources stem from innovative thinking and the strength of the people, he highlighted the importance of policy communication, consensus building among stakeholders, and the clarification of new decisions and policies. The PM forcefully advocated abolishing cumbersome regulations, urging officials to avoid unnecessary paperwork that would hinder progress and inflate compliance costs.
Looking ahead, he called upon ministries, branches, and localities to continue reviewing and innovating administrative methods while strengthening dialogue to remove obstacles for individuals and businesses. The Ministry of Industry and Trade, the Ministry of Finance, and the State Bank of Vietnam were specifically tasked with engaging in ongoing dialogues with associations and businesses to address concerns related to credit access, import and export procedures, and payment-related matters.
EuroCham's participation in this meeting demonstrates our chamber's commitment to fostering an enabling business environment in Vietnam and facilitating fruitful collaboration between European and Vietnamese enterprises. As reform continues to take center stage in Vietnam's development agenda, EuroCham remains dedicated to actively engaging with the government and advocating for policies that promote sustainable economic growth and mutual prosperity.
A Vietnamese-language article on the meeting can be found here.