October 15, 2023
Strengthening ties: EuroCham Vietnam's strategic dialogue with European institutions in Brussels
A 12-member delegation from EuroCham Vietnam conducted a series of high-level meetings with European Union officials and institutions in Brussels on 9 and 10 October. 
Pictured above: With European Commissioner for Internal Market Thierry Breton.
The primary purpose of the trip was to enhance EuroCham Vietnam's connection with the European Commission. This involved:
Amplifying EuroCham's voice in Brussels, spotlighting our main concerns in the Vietnamese market.

Distributing the latest EuroCham Whitebook to all attendees, delineating key advocacy points of our 19 Sector Committees.

Promoting the Green Economy Forum (GEF) 2023 and Green Economy Forum & Exhibition (GEFE) 2024 events.

Echoing the Vietnamese government's concerns to the European Commission.
This  delegation was reflective of the depth of expertise within EuroCham and also showcased our breadth across various sectors. Their combined presence was aimed at initiating a well-rounded dialogue, tailored to the myriad interests and concerns of the European business community. Here's a breakdown of the delegation members:
EuroCham representatives:
Chairman of EuroCham Gabor Fluit

Chairman of Advisory Board of EuroCham Alain Cany

Vice-Chairman of EuroCham in charge of Advocacy Jean-Jacques Bouflet

Vice-Chairman of EuroCham in charge of External Relations Minh Nguyen

Executive Director of EuroCham Delphine Rousselet

Co-Chair of the EuroCham Digital Sector Committee Bruno Sivanandan

Vice-Chairwoman of EuroCham IQMED G&B Sector Committee Magdalena Krakowiak

Director of EuroCham Pharma Group Sector Committee Thuy Nguyen

EuroCham's Public Relations Officer Dan Martin
Representatives of prominent EuroCham members:
Country Director of EDPR Sunseap Vietnam Dinh Nguyen Phan

Head of Regulatory, Policy & Market of EQUINOR Anders Ystad

Government & Public Affairs, EMEA at the LEGO Group Larisa Pircalabelu
Key takeaways from the meetings:
It's clear that Vietnam has caught Europe's attention. The importance of Vietnam was consistently recognized across meetings.

Officials displayed a keen interest in providing resources and expertise to Vietnam to bolster its adherence to the EU Green Deal regulations, particularly the Carbon Border Adjustment Mechanism (CBAM) and Regulation on deforestation-free products (EUDR).

Our visibility in Brussels is on the rise, with EuroCham being recognized as a pivotal partner of European institutions.
Meetings were held with representatives of European Commission departments, the European Parliament, the European External Action Service (EEAS), and Business Europe. Discussions focused on key topics like digitalization, renewable energy, reforming Vietnam's pharmaceutical legal framework, EVFTA implementation, and upcoming events like our Green Economy Forum (GEF) 2023.
Below are the key highlights from each discussion:
Commissioner for Internal Market Thierry Breton

: We discussed EU General Data Protection Regulation (GDPR) harmonization, the digitalization of companies, the EU CHIP Act, and Vietnam's clean energy sector. 

Member of Parliament Iulius Winkler

: We examined the EU-Vietnam Free Trade Agreement (EVFTA), with a focus on pharmaceutical challenges and administrative hurdles.

DG AGRI

: We underscored the importance of agriculture and EU Green Deal regulations, such as the European Union Deforestation Regulation (EUDR), and the positive steps Vietnam is taking towards compliance, but that more resources and expertise are required. We were also able to speak briefly to European Commissioner for Agriculture and Rural Development Janusz Wojciechowski.

DG CLIMA

: Our collective commitment to supporting Vietnam's climate goals was underlined, with discussions on transitioning away from coal and the European Green Deal's impact on Vietnam.

DG ENVIRONMENT

: Talks centered around sustainability regulations, the potential for offshore wind energy in Vietnam, and the urgency of energy transition and reliable carbon impact measurement. It was also announced that Commissioner for Environment, Oceans and Fisheries, Virginijus Sinkevicius, will lead a mission to Vietnam in May, focusing on the Circular Economy. European businesses specializing in the circular economy will also be part of this mission. We will share more information with our members as soon as it becomes available.

DG INTPA

: EuroCham highlighted the strategic importance of our GEF 2023 and GEFE 2024 initiatives. DG INTPA emphasized its shift from "development cooperation" to "international partnerships." Other topics discussed were Vietnam's potential role as a key player in the Global Gateway program of the EU.

DG JUSTICE

: Data transfer between Europe and Vietnam was a prime focus. A "facilitator" mechanism to aid data flow and GDPR alignment was proposed by the EuroCham Digital Sector Committee

DG TRADE

: We highlighted challenges in EVFTA implementation, including issues related to pharmaceuticals, technology transfer, internal taxation, and copyright enforcement. They emphasized that European Commission's Executive Vice President Dombrovskis will address these concerns to Vietnam during his visit to Vietnam for GEF 2023.

Business Europe

: EuroCham highlighted Vietnam's potential as a significant investment destination, notably in the semiconductor industry. The need for clarity on due diligence requirements and balanced regulations was also stressed to foster better business conditions

European External Action Service

: The EEAS shared insights on the JETP and Vietnam's COP26 commitment. Both sides underscored challenges with the JETP Resource Mobilization Plan (RMP) and bankability in the energy sector, urging favorable policies for future energy investments.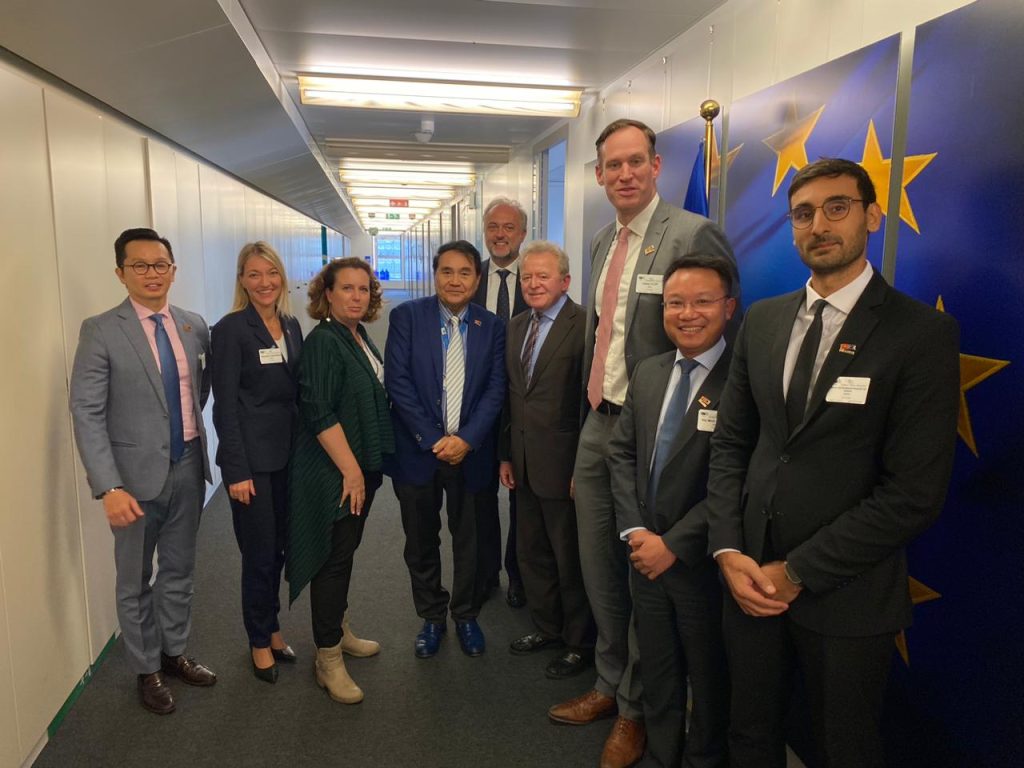 Pictured above: With Commissioner for Agriculture and Rural Development Janusz Wojciechowski.
Pictured above: With MEP Winkler.
We would like to extend our gratitude to the Embassy of Vietnam to the European Union, particularly Ambassador Nguyen Van Thao, for graciously hosting us at his residence. During our meeting, while Ambassador Thao acknowledged the potential in the EU-Vietnam relationship, he also candidly shared some concerns. He emphasized the importance of enhancing cooperation in areas of trade, investment, and climate change, while also underscoring areas that require attention and improvement. We deeply value this constructive dialogue and believe it provides a more holistic understanding of the partnership.
Pictured above: At the residence of Ambassador Nguyen Van Thao.
Advisory Committee Chairman Alain Cany resonated with these sentiments, recognizing the vast potential that remains untapped and reaffirmed our commitment to pushing for heightened collaboration. 
Our discussions touched upon the slow-paced ratification of the EU-Vietnam Investment Protection Agreement (EVIPA) and the urgency of assisting Vietnam in addressing the illegal, unreported and unregulated (IUU) fishing yellow card imposed by the EU. Additionally, the emphasis on supporting Vietnamese enterprises with EU initiatives like the Carbon Border Adjustment Mechanism (CBAM) was noteworthy. 
Check out Vietnam Net's reporting on the evening with Ambassador Thao by clicking here.
In addition to the extensive dialogue, EuroCham representatives worked closely with EVP Dombrovskis' cabinet to arrange and streamline plans for the Executive Vice President's visit to Vietnam for GEF 2023, ensuring that it would be both meaningful and impactful for all involved.
The Brussels trip has undeniably been a constructive endeavor. EuroCham Vietnam extends its gratitude to all the European institutions for their insightful discussions. Committed to fostering these dialogues, EuroCham will ensure that our members' voices resonate and that the right resources are mobilized to facilitate collaboration and mutual growth.