July 26, 2023
[SUPPORTED EVENT] Saigon Newport Corporation Running Tournament 2023 – Run As One
Saigon Newport Corporation (SNP) organizes  the SNP Running Tournament 2023 – "Run As One", a sporting event carrying the meaningful message: "Running steps towards  the same direction, moving forward with the pioneering spirit, together connecting the community, we will  together create  a harmonious world in diversity and sustainable development.
The primary goal of this tournament is to strengthen connections and foster closer relationships with our valued customers and partners, while also  promoting a healthy and active lifestyle as well as improve the quality of life. The professionally organized running tournament has attracted over 1,000 athletes from shipping lines, import-export companies, logistics enterprises, relevant agencies. 
RUN AS ONE – The 2023 SNP Run conveys our mission of unifying the community of customers, partners, and friends of SNP without boundaries, distinctions, or divisions. Together, we strive to leave no one behind, running side by side as a unified force. Running together, we are one! And in our collective endeavor, we aim to overcome challenges, pursue ambitious goals, and embody the values of a positive, healthy, persistent, and disciplined lifestyle, paving the way for a brighter future. Running together, we carry our unyielding faith, taking bolder steps, displaying unwavering determination, and fostering stronger physical resilience. We come together to strengthen the bonds of community solidarity. United and joined hands, our collective efforts are dedicated to fostering a world of peace, stability, and cooperative development – a world that remains forever akin to a serene green planet.
This event holds special significance as every step taken by our athletes contributes to a sense of responsibility to the community and social welfare. By participating in the "Gratitude & Repayment  Fund" of  Thu Duc City, they actively contribute to spreading compassion and care for those in need together with SNP. We are honored to have the support and collaboration of esteemed partners, including Agribank, Vinamilk, Ecotruck, Asia Coconut (ACP), Revolution Brewing, Truth Beer, Pocari Sweat, Scordy and other member units of SNP.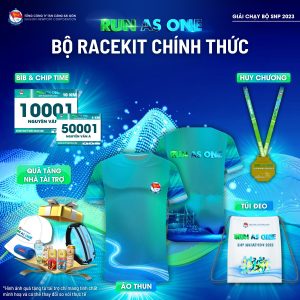 Tournament information
Date: Sunday, 30/07/2023
Location: Sala Park Urban Area, Mai Chi Tho, Thu Thiem New Urban Area, Thu Duc City, Ho Chi Minh City.
Official site: www.snpconnect.vn
 Join us in participation for the largest running tournament of the port and logistics industry community "SNP 2023 – Run As One" !