September 28, 2023
Empowering Vietnam's agricultural sector: EuroCham attends seminar on innovation for export competitiveness in agriculture
On 27 September, Ywert Visser, a member of the EuroCham Food, Agri and Aqua Business Sector Committee (FAABS), spoke at a seminar on "Technology Application and Innovation for Export Competitiveness Enhancement in the Agricultural Sector of Vietnam." 
The seminar was organized jointly by the Ministry of Science and Technology, Ministry of Industry and Trade, the Institute for Policy and Strategy for Agriculture and Rural Development under the Ministry of Agriculture and Rural Development, and brought together stakeholders from academia, government and business.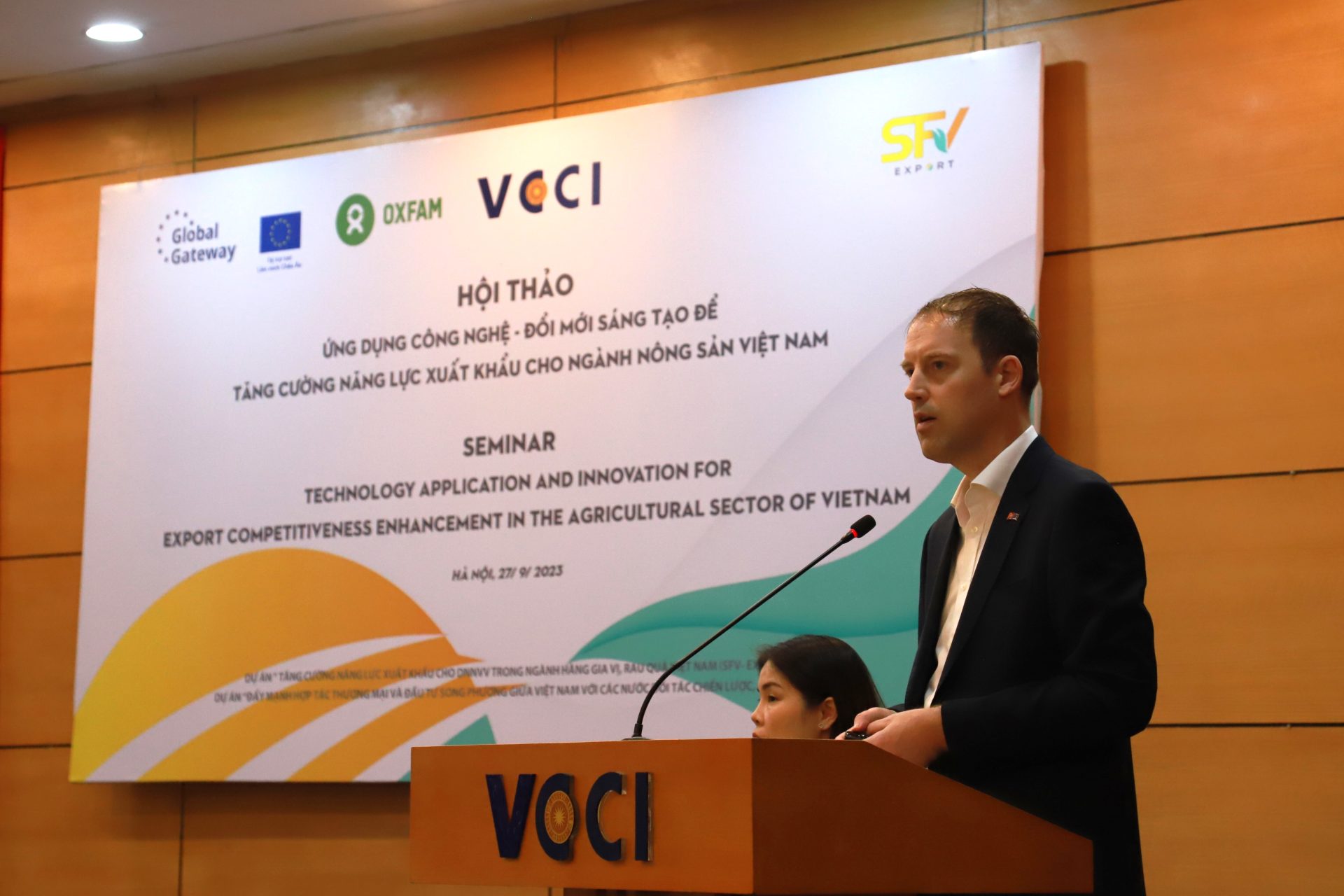 In his speech, Mr. Visser discussed opportunities for Vietnamese agricultural exports to the EU, focusing on fruit, vegetables and spices. Overall, there has been growth for Vietnam agricultural products exported to the EU since the implementation of the European-Vietnamese Free Trade Agreement (EVFTA). However, with the ever-growing demands for the standards in agricultural products imported by the European consumers, it is high time that Vietnam has to adapt  to meet the demands of the EU. 
Navigating EU Regulations
During his address, Mr. Visser delved into three key aspects:
Consumer preferences: He suggested that exporters should do market research on tastes, demands, and trends in EU countries and focus on attributes like organic, sustainably grown, and exotic flavors.

EU regulations: He discussed the necessary regulations that Vietnam must follow and update to meet stringent EU standards. The fastest way to address this is by applying standards such as Global GAP, HACCP and ISO 9001 in the production and processing. This will help meet EU regulations because it requires most of the things the EU also requires during import, such as traceability.

Vietnam's approach: Producers in Vietnam need training and support on sustainable practices – such as reduced pesticide use, environmentally friendly production and so on. Also, here, certification can help. It is likewise useful to request additional experts, for example, from Vietnamese universities and knowledge centers or foreign experts. 
A panel discussion at the same event discussed increasing the value of exports, and Mr. Visser advised Vietnamese SMEs to understand customers' needs and meet EU standards. He recommended improving sustainability as a key export requirement.
As a bridge between European business and Vietnam, EuroCham actively supports dialogues on strengthening Vietnam's competitiveness. FAABS provides perspectives on aligning Vietnamese agricultural exports with evolving EU environmental and quality regulations.
---
To learn more about FAABS, please contact Mr. Khoa Nguyen at  khoa.nguyen@eurochamvn.org