May 22, 2023
EuroCham in the News
EuroCham in the News: May 15th to May 21st
[VTV4] EuroCham Board Members discuss PDP VIII and Vietnam's green transition in media appearances.
EuroCham Board Members were actively engaged in many media appearances last week, providing their expert commentary on the approval of PDP VIII.
Vice-Chairman Minh Nguyen and Board Member Stuart Livesey appeared on Vietnam National Assembly Television on May 16 to discuss the significance of the Power Development Plan (PDP) VIII.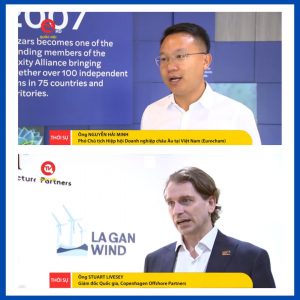 Vice-Chair Minh Nguyen expressed appreciation from the business community, particularly the European business community, for the Vietnamese government's approval of PDPVIII. He emphasized that this approval represents a tangible step towards fulfilling Vietnam's commitments at COP26, as well as its green development and investment attraction strategies. According to Vice-Chair Minh Nguyen, global trends indicate that green and sustainable development is inevitable, and Vietnam's commitment and strategy are now being concretized.
Board Member Stuart Livesey highlighted the importance of achieving the immediate implementation plan after reaching this significant milestone with the approval of PDPVIII. He acknowledged the challenges and the time required for achieving PDPVIII, while expressing the enthusiasm of renewable energy businesses to invest in Vietnam. Mr. Livesey noted the presence of suppliers and supply contracts, as well as the potential of Vietnamese businesses to contribute to the projects.
In his interview with VTV4, Mr. Livesey further emphasized Vietnam's remarkable potential to become a prominent export hub by adhering to global carbon credit standardization. He added that Vietnam's commitment to the green transition makes it an appealing destination for foreign direct investment.
Watch the full program on Vietnam National Assembly Television here. Mr. Nguyen's segment can be accessed at 4:20 in the video from Vietnam National Assembly Television, while Mr. Livesey's segment begins at 5:35. For Mr. Livesey's interview with VTV4, his segment commences at 12:38
[VTV] EuroCham Tourism & Hospitality Sector Committee member explores Vietnam's tourism recovery and growth.
In an exclusive interview with VTV, EuroCham Tourism & Hospitality Sector Committee member Martin Koerner provided valuable insights into Vietnam's tourism industry recovery and potential growth. The interview, which aired on May 8 as part of a report highlighting the positive trajectory of the country's tourism sector, underscored the pivotal role tourism plays in propelling Vietnam's economic growth, especially in the post-COVID-19 era.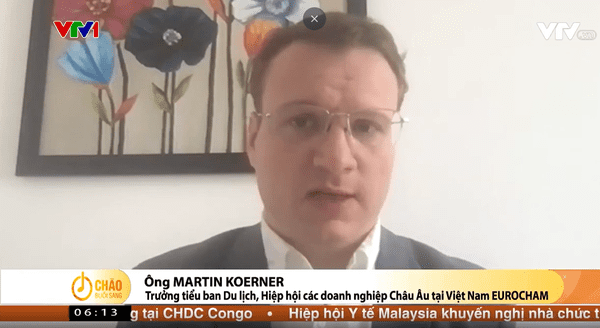 During the discussion, Mr. Koerner shed light on the transformative power of film tourism as a driving force for attracting visitors. Film tourism refers to the growing trend of travelers seeking out destinations showcased in movies or TV shows.
Mr. Koerner pointed to the success of the romantic comedy "A Tourist Guide to Love," a film that portrays Vietnam's mesmerizing landscapes and vibrant culture. With global accessibility through streaming platforms like Netflix, the movie has captured audiences' attention worldwide, leading to a surge in inquiries from prospective travelers expressing their interest in visiting Vietnam. He emphasized the significance of industry stakeholders forming strategic partnerships with film producers to tap into this burgeoning market.
To hear Mr. Koerner's insightful perspectives, the full interview can be accessed by clicking here.
[VnEconomy] Analysts: Change in mindset needed over FDI attraction.
On May 14th, VN Economy published an article titled: "Analysts: Change in mindset needed over FDI Attraction".
In the article, the media cites EuroCham Vice Chairman, Nguyen Hai Minh, at the recent workshop held by the Vietnam International Arbitration Center (VIAC) on "International Investment and Trade amid a world full of fluctuations: What should businesses do?":
"Vice Chairman of EuroCham Vietnam Nguyen Hai Minh said a survey it conducted showed that Vietnam's business environment index fell from 73 to 48 points between the first and fourth quarters of 2022."
In order to read the full article, click here
[Vietnam Briefing] What a Sugar Tax Might Mean for Foreign Firms in Vietnam
On May 16th, Vietnam Briefing published an article titled "What a Sugar Tax Might Mean for Foreign Firms". In the article, the sugar tax proposed by the Ministry of Finance is discussed.
The media explains the different concerns raised by diverse International Chamber of Commerce such as EuroCham:
"The European Chamber of Commerce (EuroCham) also raised concerns with earlier drafts of the law. It recommended specific modifications to enhance clarity, such as explicitly excluding non-sweetened drinks like milk of which it is a major producer."
To read the full article, click here.
[Rouse] Vietnam: A deep dive into the Personal Data Protection Decree (Part I)
On May 17th, Rouse published an article titled "A deep dive into the Personal Data Protection Decree (Part I)". The article is a follow-up of the "recently held EuroCham Vietnam Webinar" and goes in detail into the Decree No.13/2023/ND-CP on personal data protection (PDP Decree) which was officially issued by the Vietnamese government on 17 April 2023.
[The Investor] Vietnam's renewables promoting power plan in line with global greener practices: EuroCham
On May 18th, The Investor publishes an article titled "Vietnam's renewables promoting power plan in line with global greener practices: EuroCham".
The article cites EuroCham and EuroCham Chairman Gabor Fluit multiple times to discuss a transition toward sustainability in Vietnam:
"Vietnam's latest power development plan facilitates a smooth transition towards equitable and sustainable energy systems, aligning with global trends towards greener practices and the need to reduce emissions, said the European Chamber of Commerce (EuroCham)."
""Many EuroCham members have extensive global expertise in developing, financing, and managing renewable energy projects. With a deep understanding of the infrastructure and requirements for generating and transmitting renewable energy, we are all dedicated to supporting Vietnam, local developers, and suppliers in their transition towards sustainability," EuroCham chairman Gabor Fluit said."
"We eagerly anticipate collaborating with the government in any capacity and seizing every opportunity to contribute. I and the rest of the EuroCham team are 100% committed to realizing the targets of this plan."
"This places Vietnam at the forefront of significant progress in its energy sector, demonstrating its dedication to a greener and more sustainable energy future."
"However, to effectively stimulate private sector involvement, additional efforts are needed, EuroCham said.
Achieving this objective requires greater clarity, particularly in addressing economic aspects such as market design, grid upgrade plans, how to ensure satisfactory returns on investment, as well as implementation plans for the Just Energy Transition Partnership (JEPT), the chamber added.
"Furthermore, enhanced transparency and understanding of energy subsidies are essential. We eagerly anticipate further progress in these challenging but essential areas," it wrote."
To read the full article and understand the shift of Vietnam toward sustainability as well as EuroCham insights, click here.