September 15, 2023
[Event recap] EuroCham Women in Business Sector Committee hosted successful Roundtable on Gender Pay gap with Fulbright Professor Graeme Walker
On 24 August 2023 at HCMC EuroCham Office, the Women in Business Sector Committee (WIB SC) conducted a Roundtable discussion on the gender wage gap.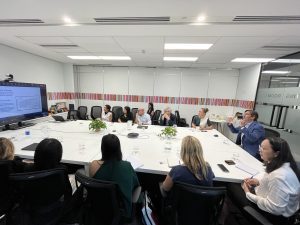 The topic remains a significant concern, reflecting broader challenges in achieving gender equality in the workforce. WIB SC, with the special presence of Professor Graeme Walker, an associate professor of economics and founding faculty member at Fulbright University Vietnam, discussed the following:
(1) What is the gender wage-gap and how is it measured,
(2) What factors affect the gender-wage gap, and
(3) Which policies help mitigate the gender-wage gap
The session covered the overall view of the history of the gender wage gap in the US and throughout the world, discussing the long history of the difference in male and female labour force participation, in education and experience.
Some factors affecting the gender wage gap included the difference in career choices, work experience, employer type, and hours worked.  Studies have found that these factors collectively contribute to the observed disparity in earnings between men and women. In addition, differences in risk preferences, competitiveness and gender perceptions also appear to contribute to the gap.
Policies to close the gender wage gap were considered, taking into consideration effective practices in other countries. Some policies such as mandatory gender balance on business Boards and pay transparency (i.e., Danish law requires firms to publicize the differences between the wages of its male and female employees) have achieved successful results.  In addition, family-friendly policies such as providing equal maternity/paternity leave periods for both the mother and father and subsidized childcare are vital to shrink the gender wage gap.
The crucial role of social norms in determining the gender wage gap was emphasized at the end of the presentation, as we considered various studies showing the lingering effects of customary and traditional expectations of women despite the introduction of progressive policies.
The Women in Business SC's Monthly Roundtables aim to address concerns related to gender equality in the professional workforce for further discussion and to gain a broader perspective. This event presents an opportunity to engage with experts, foster a deeper comprehension of a critical workplace equality issue, and be part of a conversation that drives positive changes.
For further information and updates on upcoming event of Women in Business SC, please follow:
If you are intersted in becoming a part of EuroCham Women in Business SC, please contact: phuong.hoang@eurochamvn.org for more information.