July 03, 2023
Tourism and Hospitality Sector Committee Chairman Mario Mendis discusses visa reforms and Vietnam's tourism growth on VTV4 and National Assembly TV
EuroCham Tourism and Hospitality Sector Committee Chairman Mario Mendis made two appearances on Vietnamese-language TV to discuss the latest developments in Vietnam's tourism industry.
On VTV4's Vietnamese 9 p.m. News Bulletin program on June 30, he shed light on the latest developments in Vietnam's tourism industry, specifically regarding recent travel visa reforms. Mr. Mendis provided valuable insights into the reforms, emphasizing their potential impact on the industry and the country's overall economic growth.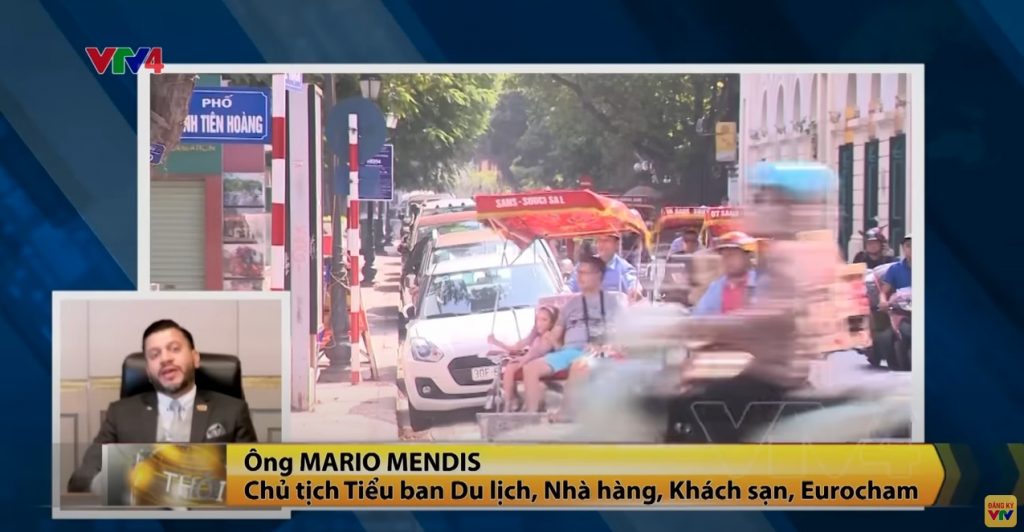 Approved by Vietnam's National Assembly on June 24, these reforms mark a milestone for the industry. Effective from August 15, the revised visa regulations grant e-visa holders the unprecedented freedom to enter and exit Vietnam an unlimited number of times within a 90-day period, a considerable expansion from the previous 30-day limit. Furthermore, citizens of visa-exempt countries can now extend their stays in Vietnam for up to 45 days, a substantial increase from the previous 15-day limit.
Mr. Mendis expressed his enthusiasm for the updated visa policies, recognizing their significance in positioning Vietnam as an attractive destination for high-spending tourists. He underscored the anticipated impact of these reforms on the industry. He noted that this particular demographic of tourists is expected to spend an average of 3 to 4 weeks exploring and immersing themselves in the country's offerings.
He also highlighted the growing interest by foreign investors in Vietnam's resort real estate market, spanning across the nation from north to south. This heightened investment activity is a tangible demonstration of international confidence in Vietnam's tourism industry and economy. Over the past year, the market has experienced substantial growth, consolidating Vietnam's position as an appealing destination for both astute tourists and investors.
For those eager to delve deeper into Mr. Mendis' insights, the complete interview can be accessed by clicking here and skipping to the 19-minute and 21-second mark.
On July 2, he also joined National Assembly TV and gave congratulations to Vietnam on the approval of the amendment. He emphasized that it will greatly benefit foreign investors, allowing them to stay in the country for extended periods of time for market research and human resources training. You can watch the full clip by clicking here and skipping to 9 minutes and 30 seconds.
Interested in joining the EuroCham Tourism and Hospitality Sector Committee? For inquiries, kindly contact Sector Coordinator Ms. Pham Ngoc Anh at anh.pham@eurochamvn.org or (+84) 911 221 997.