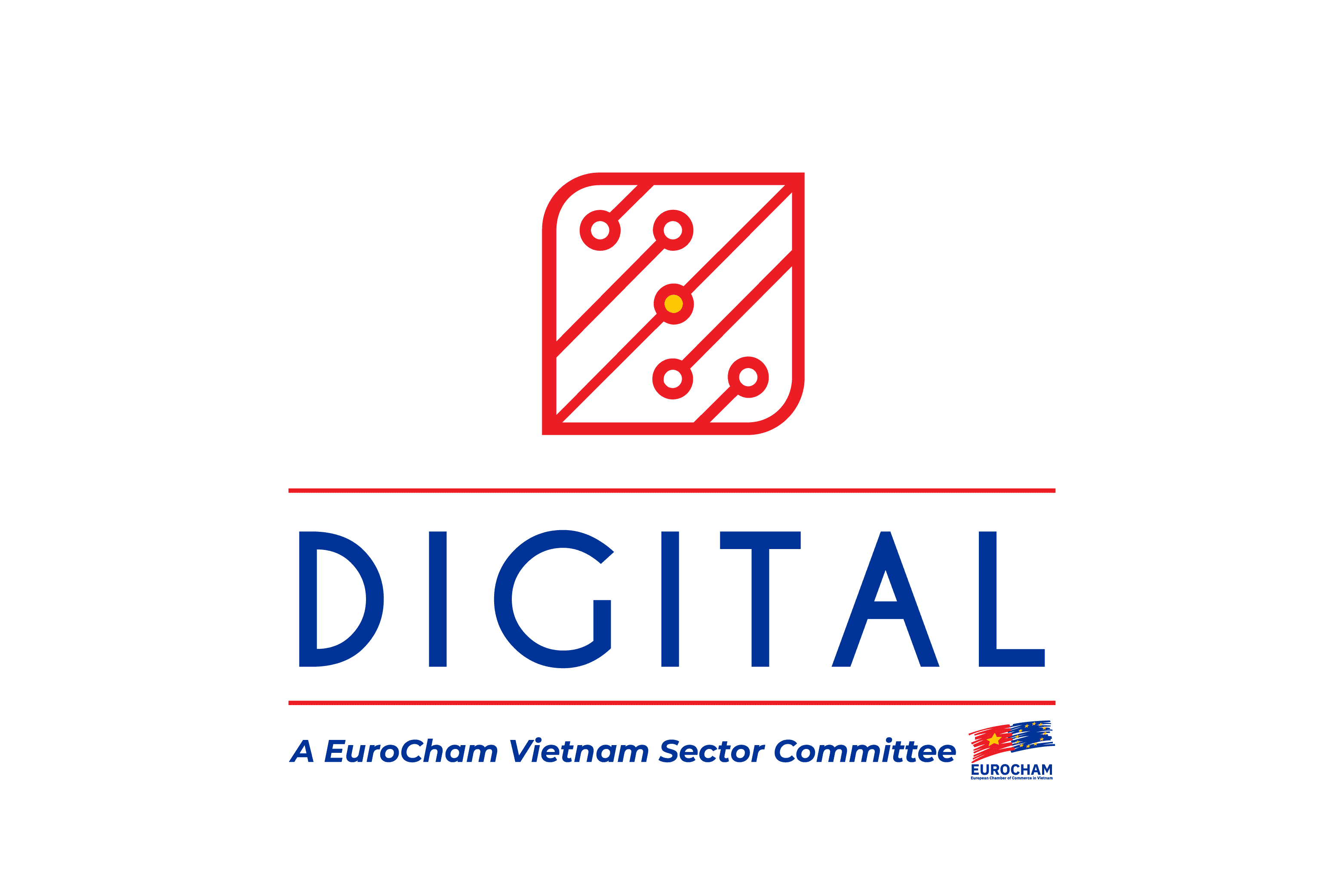 About our Digital Sector Committee
The Digital Sector Committee (SC) supports Vietnam's long-lasting digital development by addressing topics related to European businesses operating in Vietnam. We aim to:
Provide a cross-sector platform to engage government and enterprises in digital transformation;
Share experience and insights into transforming business models and leadership styles;
Improve employee and graduate skills in information and communication technology (ICT);
Identify and address challenges posed to European businesses, such as those related to policy and legislative changes;
Promote innovation, emerging technologies, and the Vietnamese digital economy.
Develop the EU-Vietnam digital sector.
Data protection
Cyber security
eGovernment
Digital transformation
Bruno Sivanandan
Co-Chair
Cycle
Pavel Poskakukhin
Co-Chair
Deloitte Vietnam
Eunjung Han
Vice-Chair
Rouse
Alexandre Sompheng
Treasurer
Havas Group
Digital Sector Committee Members
Amazon Web Services
Aspire Vietnam
AstraZeneca
BlockBase
Bosch Global Software Technologies
Cycle
Deloitte
Havas Group
Home Credit
ISB Vietnam
Ozitem Owentis Vietnam
Prudential
Rouse Vietnam
Satellite Digital Television (VSTV)
Super Energy Corp
Sunbytes
TEKID
Tilleke & Gibbins
Unilever
Vero
External activities
Mar. 17: Attended the Vietnam Connect Forum 2023 with the topic "Breakthrough for Vietnam Central Region: Twin Green – Digital Transitions in Growth and Sustainable Development Strategies" in Da Nang. Digital SC Co-Chairman Pavel Poskakukhin delivered a presentation on Green investment in the area of Central Highlands Tay Nguyen and Digital investment, Vietnam creative software development from European companies. 
Mar. 21: Attended the High-level Event on Digital Transformation – Faster, Smarter, Greener in Hanoi. Digital SC Co-Chairman. Digital SC Co-Chairman Bruno Sivanandan share digital transformation by European companies, which is mainly driven by their ability to capitalise on innovation in the technology space in the fields of web3, AI and most importantly, data protection as consumers are protected as they stand to benefit most from this trend
Apr. 13: Digital SC Co-Chairman Bruno Sivanandan attended the Smart City Exhibition and Seminars in Ho Chi Minh City, themed Towards a modern data and analytics infrastructure for smart cities. 
Apr. 17: The newsletter Vol 02.2023 was issued 
Apr. 21: Digital SC Co-Chairman Pavel Poskakukhin attended the investment conference in Da Nang City – the new high-tech industry hub, and join the discussion on the hi-tech industry, investment opportunities and challenges
Apr. 21: Sent a letter to the Ministry of Information and Communication and the Science, Technology and Environment Committee of the National Assembly to comment and provide recommendation on the Draft Law on E-Transactions version February 6, 2023.
May. 8: Digital SC organised a webinar on Vietnam's Personal Data Protection Decree: Navigating the new regulatory landscape for Personal Data Protection to share about (1) Overview of the legislative context leading up to the PDP Decree's issuance; (2) Key provisions under the PDP Decree; and (3) Impact of the PDP Decree on businesses, organisations and compliance issues
May 19: Digital SC Vice-Chairwoman Eunjung Han highlighted Decree 13 on Personal Data Protection on Vietnam Investment Review via an Article named "PDP legislation changing the game in the data processing". Link: PDP legislation changing the game in data processing
Internal activities
Mar. 23: Digital SC held monthly meeting 
Apr. 25: Digital SC held monthly meeting 
May. 23: Digital SC held monthly meeting
Advocacy outcomes
Apr 17: Decree 13 on personal data protection was issued. The issuance puts an end to four years of waiting and heated debates on restrictions on cross-border data flows. Owing to relentless local and international industry inputs, the Decree has undergone several positive developments, including the following:
Recognizing the distinction between data processors and data controllers
Adopting the EU's GDPR principles to process personal data without the subject's consent, including contractual terms, and
Decreased data transfer requirements: mandatory localisation of original personal data and case-by-case approval will no longer be required, instead only requiring pre-transfer impact assessment reports and post-transfer checks
May 12: Attended the Workshop and Dialogue by VCCI and Science, Technology and Environment Committee of National Assembly on Draft Law on E-Transaction (Amended) to review the latest Draft version dated 9 May 2023, which is scheduled for discussion by the National Assemblyin late May, and being passed by the end of June. This version recognised a lot of recommendations from Digital SC on the concepts of information systems serving electronic transactions, digital platforms and intermediary digital platforms; Article 46.1 Information System for electronic transaction; Article 50. Measures to protect electronic transactions and Article 52. Protection of data messages.
Join the Digital Sector Committee
Kindly fill out the application form here and review our bylaws here. Upon  EuroCham membership registration, your application to the Digital Sector Committee will be processed.
Membership fees: 6,500,000 VND/member
For inquiries, kindly contact:
Senior Sector Committee Coordinator Mr. Le Phuoc Toan
Email: Toan.le@eurochamvn.org;
Office phone: (84-28) 3827 2715 – Ext 112
Mobile: (+84) 938 540 259