October 20, 2023
EuroCham Medical Devices & Diagnostics Sector Committee works on advancing value-based healthcare in Vietnam
The Value-Based Health Care system (VBHC) is designed to re-envision healthcare, emphasizing optimal outcomes for patients achieved in the most cost-effective manner. In this system, 'value' represents the caliber of health results relative to expenditures. A key component of VBHC is 'value-based purchasing', which doesn't merely focus on initial costs. Instead, it assesses a mix of long-term expenses, technical attributes, and service quality. This strategic approach aspires to elevate patient care standards while ensuring the healthcare system's longevity. Implementing such a method demands extensive collaboration with a spectrum of stakeholders—from health authorities and insurers to healthcare providers, medical tech firms, industry associations, and payers. A deliberate and phased transition is essential for its success.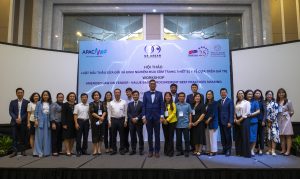 The National Assembly of Vietnam enacted the Law on Tender on 23 June 2023. The draft decree to guide this law's application is currently under refinement, benefiting from continuous feedback from the industry and other vested parties.
With that, the EuroCham Medical Devices and Diagnostics Sector Committee (MDDSC) was pleased to jointly organize the Value-base Market Access Summit in partnership with the US-ASEAN Business Council (USABC), Asia Pacific Medical Technology Association (APACMed) and supported by the Ministry of Planning and Investment. The event's expert sharing, case studies, and panel discussions by our speakers and panelists provided invaluable insights on value-based procurement best practices. These insights were effectively adapted for application in Vietnam, benefiting patients and providers, and achieving the goals of improved access to care and reduced healthcare costs.
The following participants from the government took part:
Mr. Hoang Cuong, Head of Procurement Policy, Public Procurement Agency, Ministry of Planning and Investment

Mr. Le Van Dung, Deputy Director General, Infrastructure and Medical Device Administration

Ms. Ngo Thi Thu Ha, Deputy Head of Department of Materials and Medical Equipment Management, Vietnam Social Security