August 18, 2023
EuroCham meets with Hoa Binh Province to explore collaboration opportunities
On 14 August, representatives from Hoa Binh Province visited the Hanoi office of EuroCham Vietnam to discuss potential cooperation.
Attending from EuroCham were Vice-Chairman Minh Nguyen and Head of Hanoi Office cum External Relations Van Nguyen. The Hoa Binh delegation included Mr. Pham Anh Quy, Director of the province's Promotion Center for Investment, Trade and Tourism, along with other officials from the Center.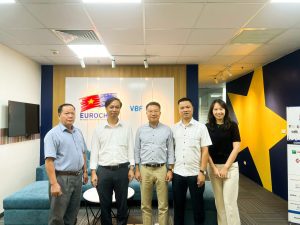 The aim of the meeting was to strengthen the relationship between EuroCham and Hoa Binh Province, in line with EuroCham's strategy to increase engagement with provinces across Vietnam. This sets the stage for future collaboration, including an upcoming field trip to Hoa Binh Province planned for 6 to 7 October.
EuroCham sees tremendous opportunity to support the growth and development goals of Hoa Binh Province. By building strong cooperative ties, EuroCham can better promote the province to EU investors as an attractive investment destination.
Further details about the upcoming October field trip and other joint initiatives will be shared as plans progress in the weeks ahead. EuroCham looks forward to growing its cooperative relationship with Hoa Binh Province.