February 22, 2023
EuroCham Spoke at a Meeting Between HCMC's Leaders and Foreign Business Associations
On February 22, EuroCham Chairman Alain Cany addressed the leaders of Ho Chi Minh City and foreign business associations to discuss the city's economic prosperity. EuroCham, along with other foreign business chambers, had a meeting with the HCMC People's Committee and the city's departments to discuss the city's socio-economic development vision and orientation for 2023, and the difficulties and problems faced by the foreign business community.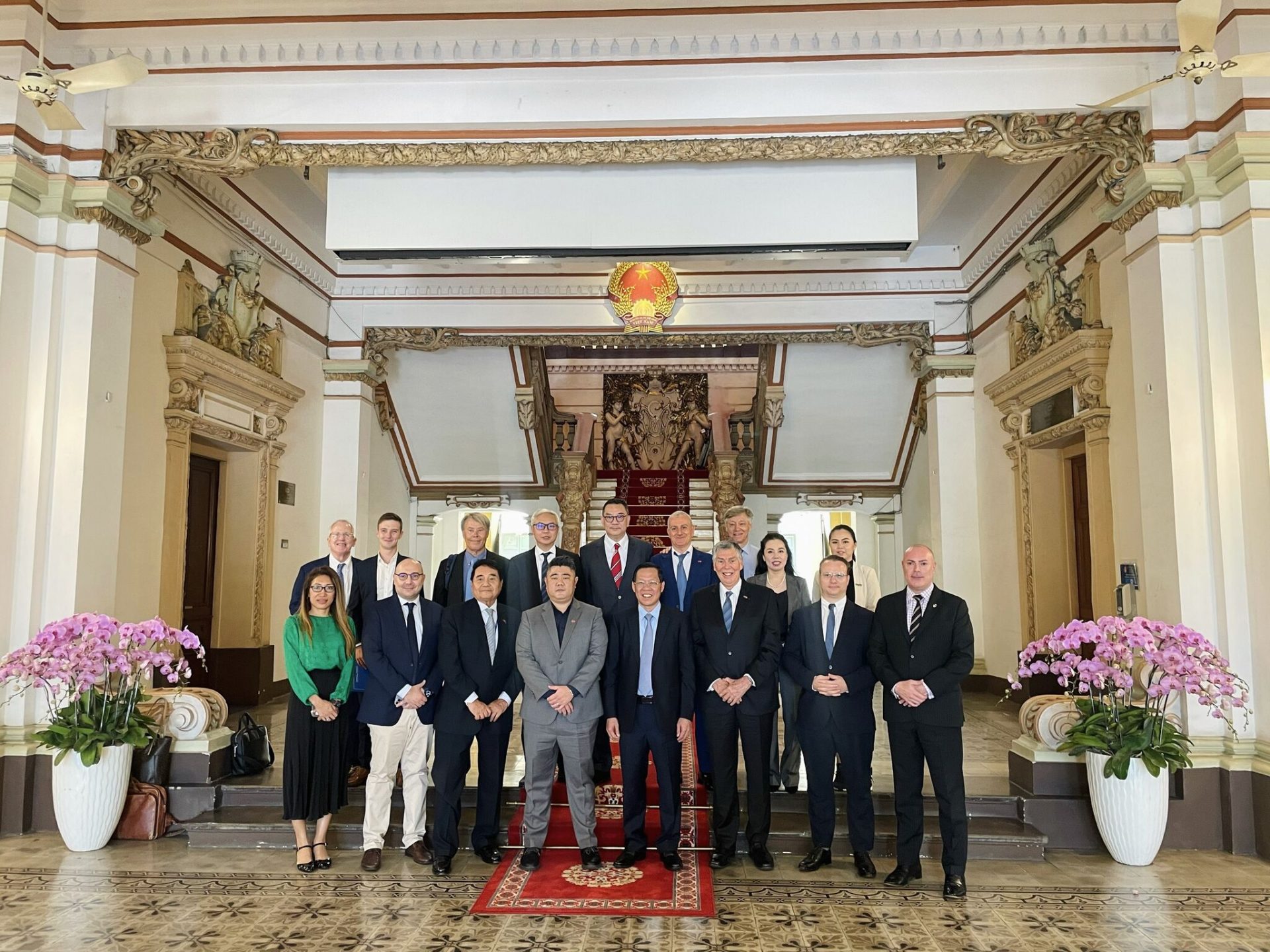 During the meeting, Chairman Alain Cany delivered a speech with actionable recommendations to ensure HCMC's enduring success. He proposed several measures, including extending visa exemptions to 30 days and expanding it to citizens of all EU member countries, speeding up processes at Tan Son Nhat International Airport, and implementing the "in principle approval" procedure only for foreign investors falling under Article 26.2 of the Investment Law. He also suggested the city have a policy to support the adoption of electric vehicles, urging HCMC to utilize technology to streamline administrative procedures, and introducing green building certificates. In his concluding remarks, Mr. Cany expressed optimism about HCMC's future and stressed the need for closer communication between the business community and city authorities. Click here to read his full speech.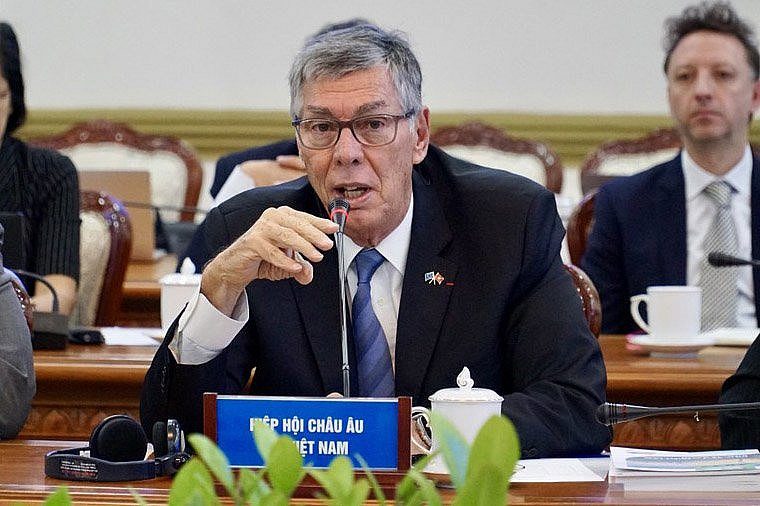 Photo credit: Vietnam Investment Review
Several department representatives responded to the recommendations:
Tran Quang Lam, head of the Department of Transportation, presented HCMC's plan to accelerate transportation, connect regions, and decrease logistics costs.
HCMC DOLISA Deputy Director Nguyen Van Lam presented the outcomes of the work permit-related meeting with EuroCham on Monday and noted that the department had compiled all recommendations on this issue and presented them to their superiors for further review. The HCMC Investment and Trade Promotion Center (ITPC) is also planning to arrange a meeting with EuroCham's members to discuss work permits.
Deputy Director Nguyen Hoai Nam of the HCMC Department of Health said the department is actively reducing paperwork and processing times for cosmetic advertising.
Nguyen Toan Thang, Director of HCMC's Department of Natural Resources and Environment, said the city has developed a program for reducing environmental pollution, including waste, recycling, and boosting electric combustion to reduce waste burying.
HCMC's Vice Director of Planning and Investment, Dao Minh Chanh, stated that they have further instructions to discuss and exchange ideas with the Ministry of Planning and Investment regarding Article 26 of the Investment Law.
The Director of the HCMC Department of Tourism, Nguyen Thi Anh Hoa, explained that the government has directed relevant ministries to consider extending the travel visa period, and therefore, this is being considered.
During his speech, Chairman Phan Van Mai emphasized the city's commitment to economic development by inviting suggestions from businesses to improve current procedures. He further explained that Ho Chi Minh City aims to become a smart, modern, and industrial city, while maintaining its position as the economic center of Vietnam.
EuroCham is honored to have played a pivotal role in these essential discussions, helping shape the future of Ho Chi Minh City. As a committed partner to the city's leaders and business community, we eagerly anticipate the opportunity to continue working together towards a shared goal of promoting sustainable economic growth and development in the region.