October 19, 2023
EuroCham spoke at the second annual meeting of the government's Steering Committee for Administrative Reform
On 16 October 2023, EuroCham Vietnam participated in the second meeting of government's Steering Committee for Administrative Reform. Chaired by H.E. Mr. Tran Luu Quang, Deputy Prime Minister, and H.E. Mr. Nguyen Duy Ngoc, Deputy Minister of Public Security, the event brought together high-ranking government officials and key stakeholders to address critical issues and progress in streamlining administrative procedures and enhancing public services.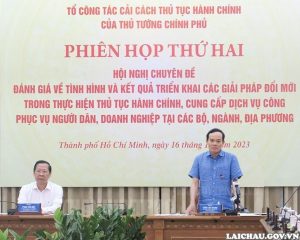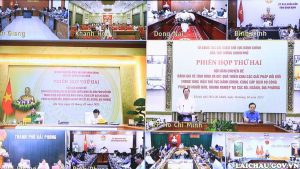 EuroCham was represented by Vice Chairman Minh Nguyen and Advocacy Manager Diep Truong.
The agenda covered the status of implementing innovative e-government solutions, remaining challenges, and future priorities. Key points highlighted were:
Progress in digitizing administrative systems and authentication methods through new laws and circulars.

Concerns over information syncing between national and provincial systems, and low public awareness hampering usage.

Lack of skilled IT personnel to manage technical systems.
During the meeting, Mr. Minh Nguyen emphasized the importance of creating specialized working groups to tackle concurrent issues related to on-site import-export and FDI energy projects.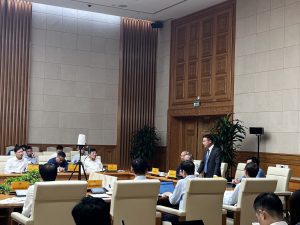 H.E. Mr. Tran Luu Quang, Deputy Prime Minister Minister, concluded the meeting by highlighting the government's commitment to administrative reform goals, which include:
Setting individual administrative reform goals for the remainder of the year.

Focusing on the implementation of Decision 06/QD-Ttg, which aims to apply population data, e-identification, and e-authentication in the context of national digital transformation.

Emphasizing objectives such as the completion of legal procedures and regulations, investment in technology infrastructure, budget allocation to provinces, ensuring information security, and assembling a team of technology experts to support the initiative.
The event marked a significant milestone in Vietnam's ongoing efforts to streamline administrative procedures and improve public services, with EuroCham contributing its expertise and insights in this vital endeavor. The commitment of both the government and private sector stakeholders to this cause promises a more efficient and user-friendly administrative landscape in the near future.