September 29, 2023
EuroCham unveils upcoming Green Economy Forum (GEF) 2023 at Hanoi press conference
On 28 September, EuroCham hosted a press conference at the JW Marriott Hanoi to unveil details of the upcoming Green Economy Forum (GEF) 2023. GEF 2023, EuroCham's rapidly-approaching sustainability event, will take place on 2 November, also at the JW Marriott.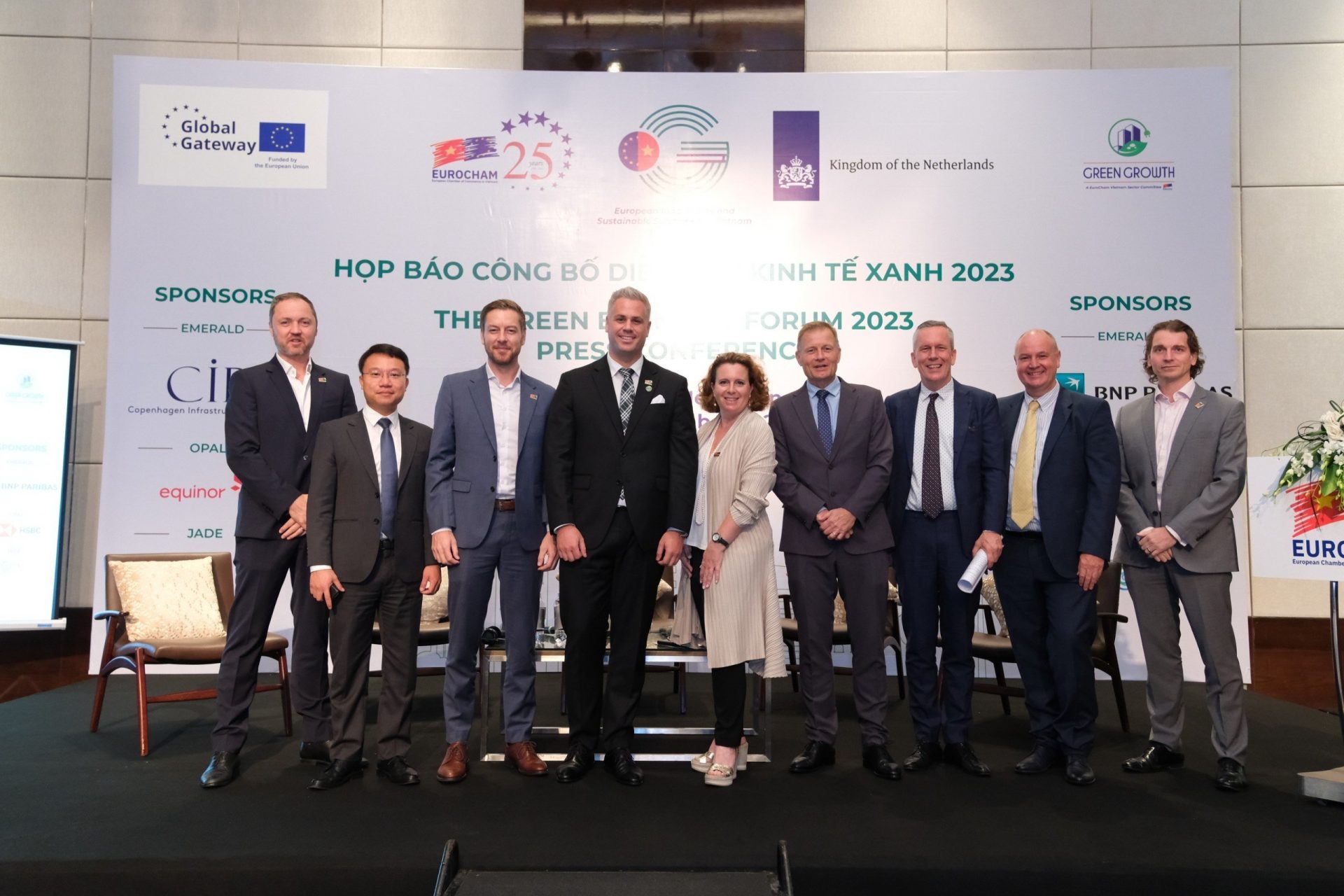 The press conference featured insightful commentary from high-level speakers about the significance of the forum in Vietnam's wider green transition. Speakers included:
H.E. Julien Guerrier, Ambassador of the European Union to Vietnam; 

Christoph Prommersberger, Deputy Head of Mission at the Netherlands Embassy to Vietnam; 

EuroCham Vice-Chairman Dominik Meichle; and 

EuroCham Board Member and Green Growth Sector Committee Vice-Chair Stuart Livesey.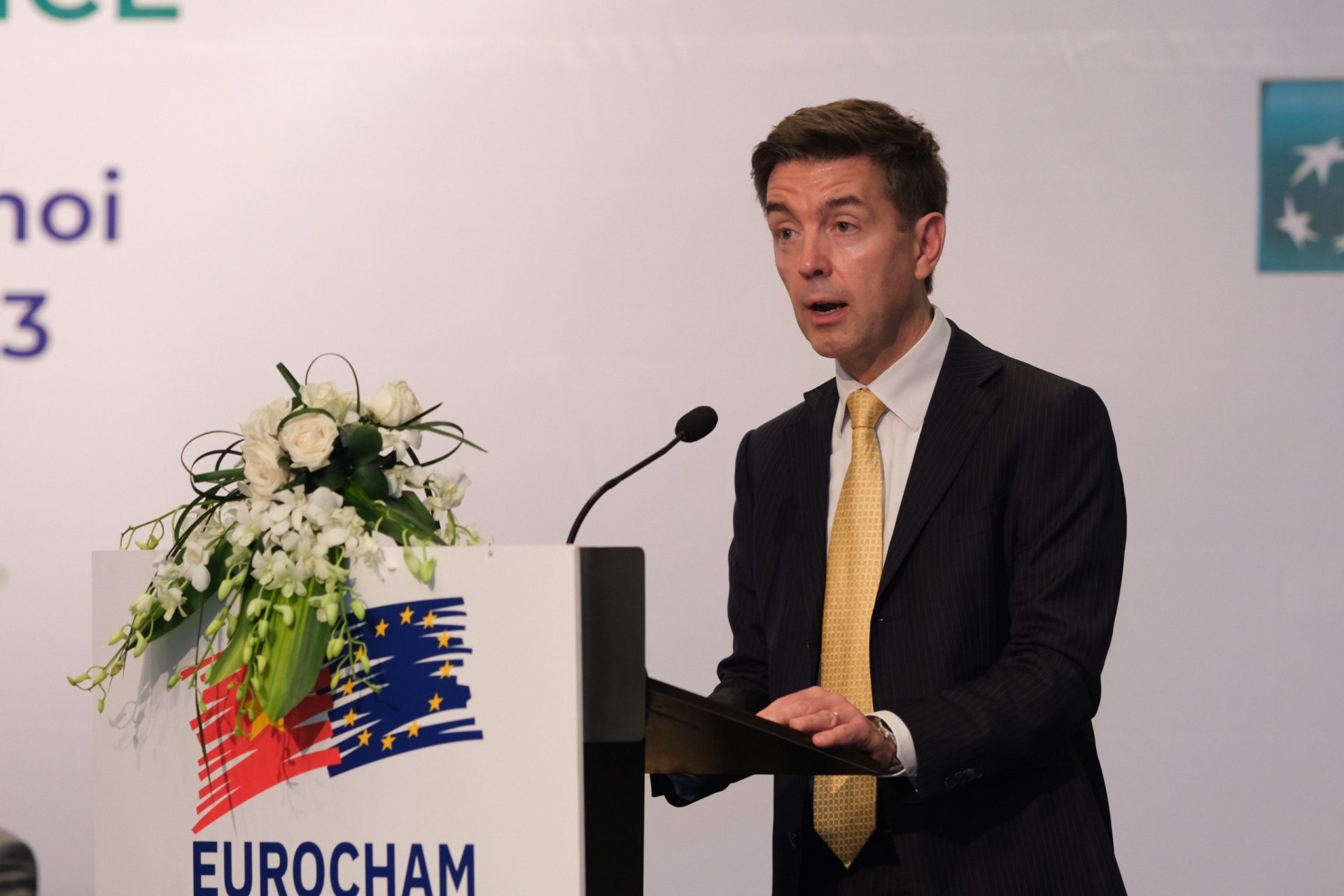 In his remarks, newly appointed EU Ambassador Julien Guerrier emphasized the importance of the GEF as a symbol of ongoing Europe-Vietnam cooperation on sustainability initiatives. He expressed confidence such collaborative efforts will pave the way for a successful green transition in Vietnam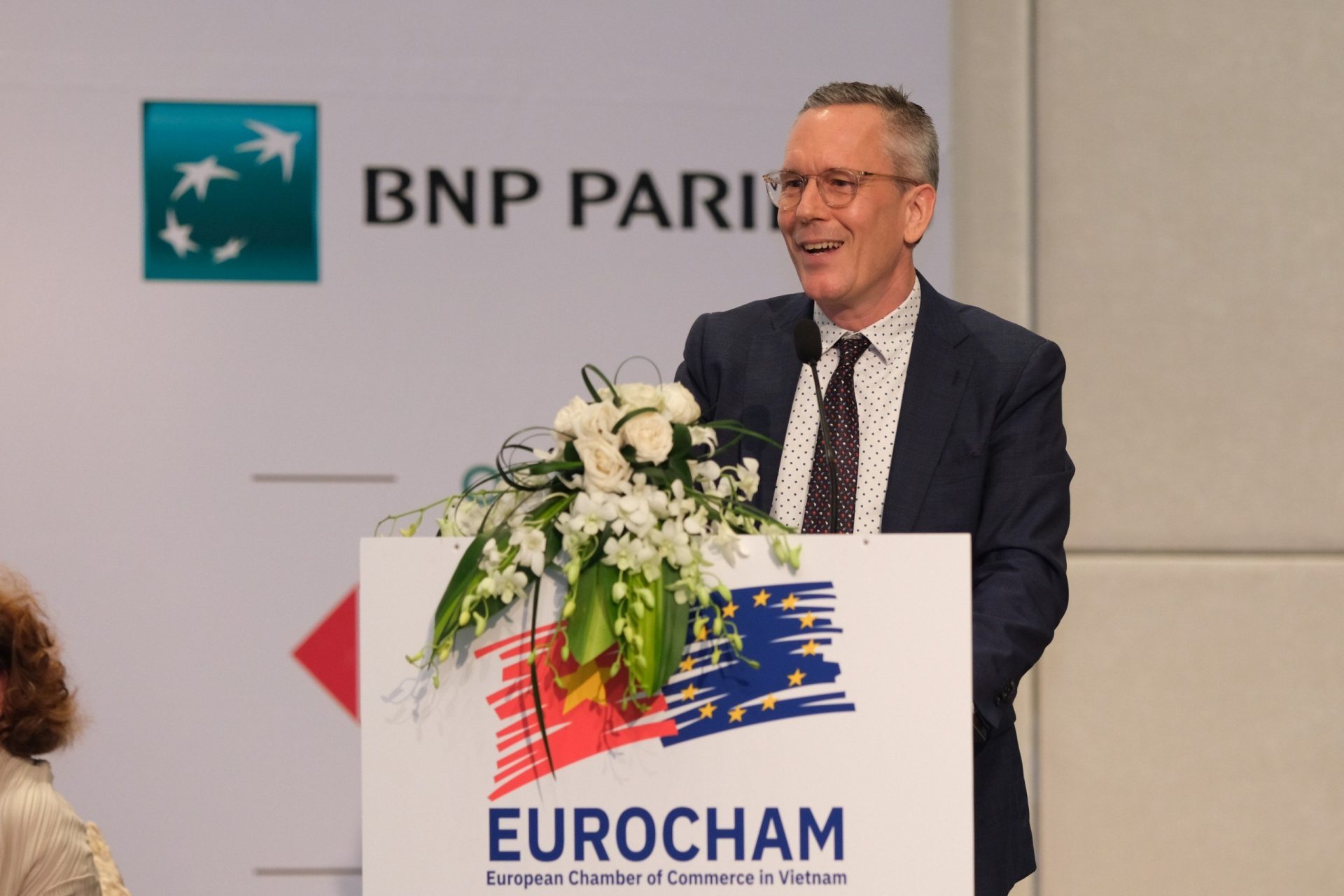 Deputy Head of Mission Christoph Prommersberger reflected on Vietnam's ambitious sustainability goals for 2050. Drawing from Europe's experiences, he highlighted the challenges of translating commitments into tangible outcomes. He pointed to the critical role of businesses in the green transition, especially when adapting to new EU regulations like the Carbon Border Adjustment Mechanism (CBAM). With these considerations, GEF is well-positioned to provide Vietnamese companies the resources needed to meet and adapt to evolving global standards.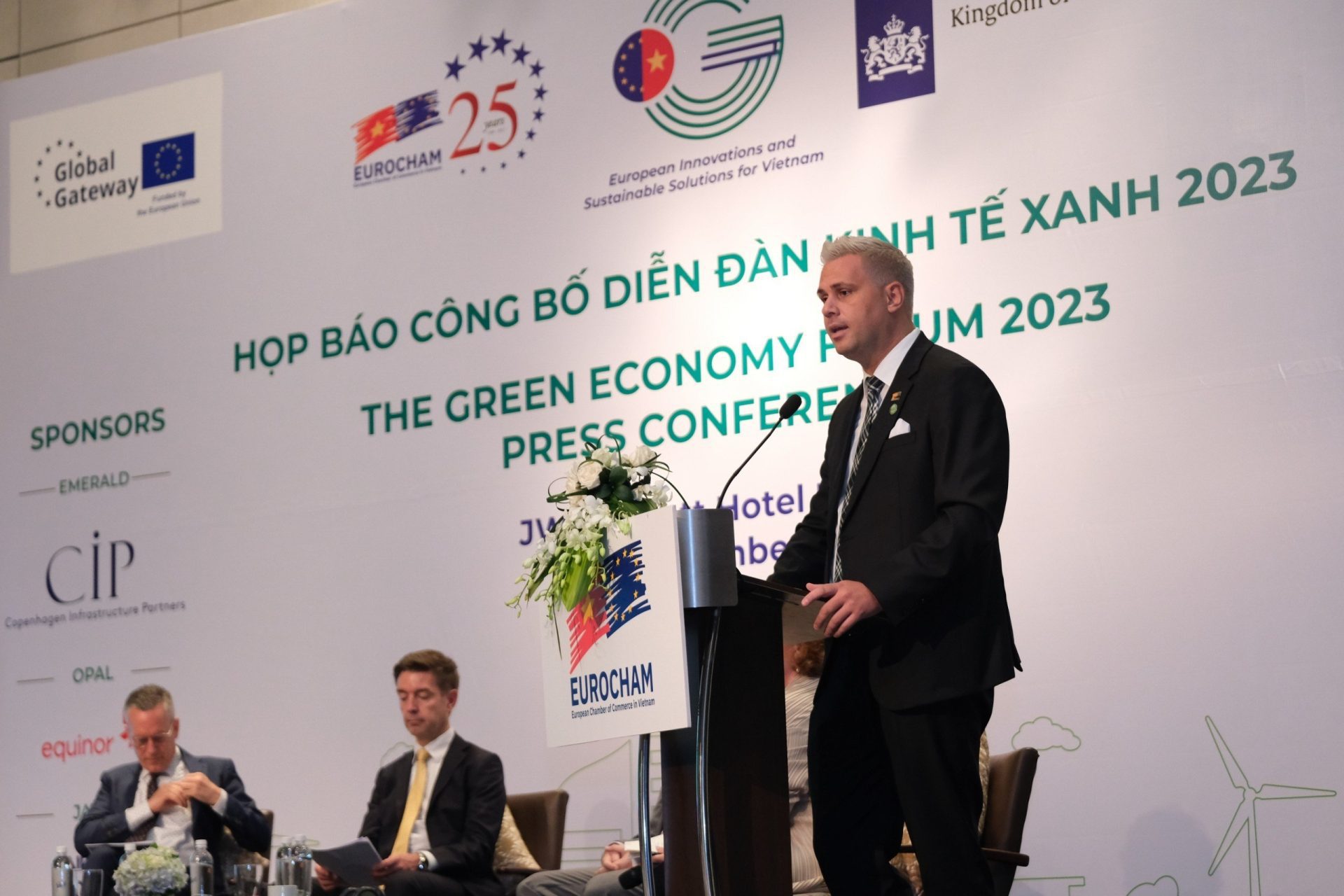 EuroCham Vice-Chairman Dominik Meichle noted the mutual vision and increasing collaboration between Team Europe and EuroCham to advance together towards a sustainable future, fostering synergies between European and Vietnamese stakeholders.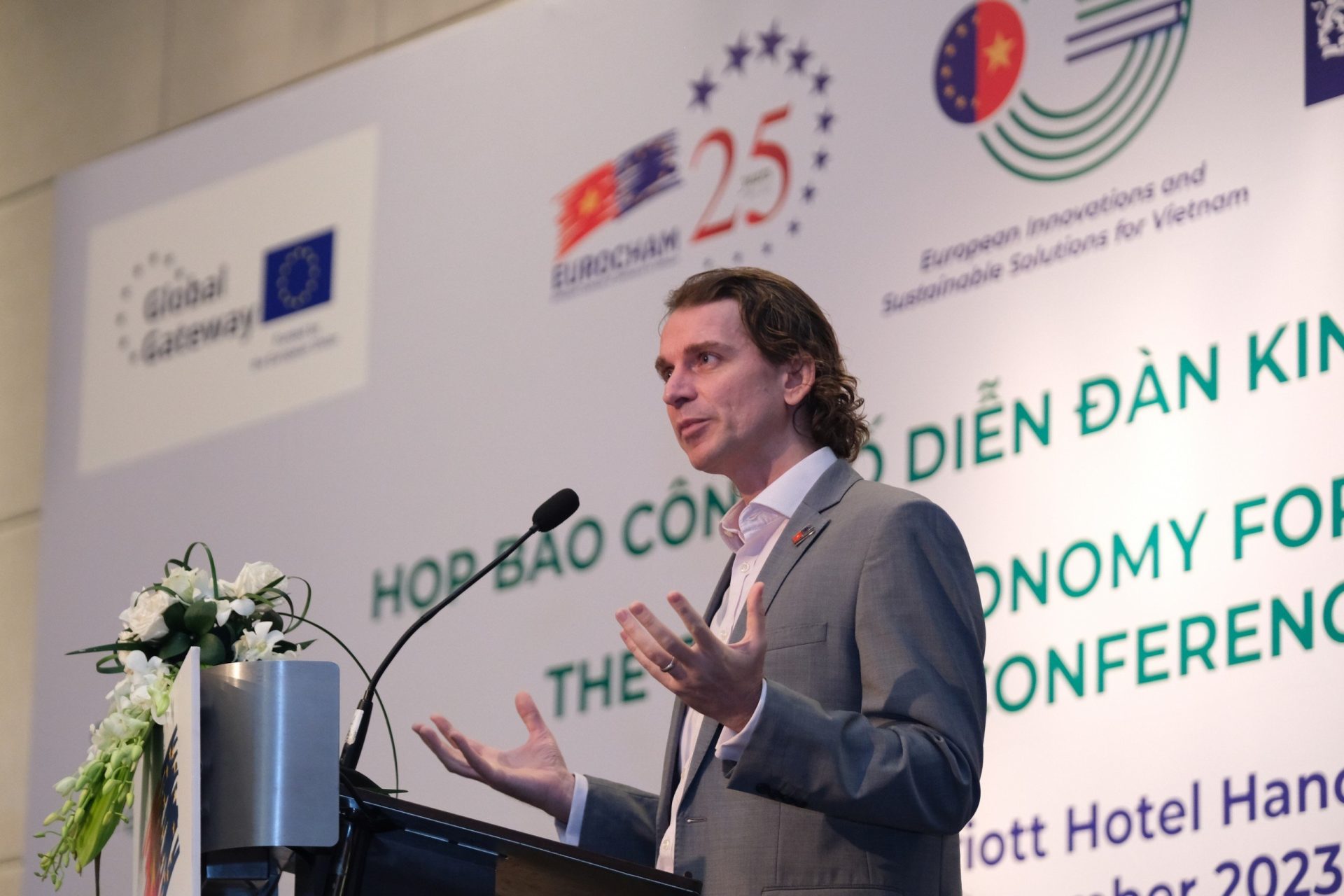 EuroCham Board Member Stuart Livesey also gave a comprehensive overview of the forum, detailing its value for participants in empowering them to confidently navigate the green transition with greater insight.
With insightful commentary from expert speakers, the press conference unveiled the significance, purpose and value proposition of the upcoming GEF 2023. The forum promises to be an impactful sustainability event, uniting European and Vietnamese industry leaders, policymakers and advocates to drive Vietnam's green growth.
---
Click here to access the full GEF 2023 press kit, which includes the press release, photos, a video recording, and all event details.
---
Thanks once again to our valued speakers, and for all of the press who braved the perilous Hanoi rain to report on the press conference.
We would also like to thank our sponsors for making GEF 2023 possible, including BNP Paribas, Copenhagen Infrastructure Partners (CIP), Equinor, HSBC, Airbus, and EDPR! 
Are you also interested in sponsoring GEF? Click here for more info!
See you at GEF in one month!