October 19, 2023
EuroCham Vice-Chairman Torben Minko addresses Prime Minister on Vietnam's green transition at FDI business conference
On 16 October 2023, in observance of Vietnamese Entrepreneur Day, EuroCham Vice-Chairman Torben Minko addressed a distinguished audience that included Prime Minister Pham Minh Chinh. This took place at an FDI business conference organized by the Ministry of Planning and Investment.
Key takeaways from Mr. Minko's address:
EuroCham, representing 1,300 members, supports Vietnam's green transition. 

During EuroCham's Brussels visit on 9 and 10 October, European leaders lauded Vietnam's climate initiatives, recognizing it as a regional green leader. The European Union-Vietnam Free Trade Agreement further strengthens this partnership.

However, Vietnamese companies face challenges in complying with EU Green Deal regulations, such as the Carbon Border Adjustment Mechanism. More expertise and resources are required to address these issues. 

The EU is prepared to assist with regulatory guidance, technical support, and funding. EuroCham aims to bridge Vietnam and the EU, ensuring they benefit from the EU's offered support, further solidifying their partnership.

Emphasis was placed on Vietnam's need for a sturdy legal structure to pivot from fossil fuels, enhance renewable energy uptake, and spur economic growth.

An invitation was extended to the Prime Minister to be the keynote speaker at EuroCham's Green Economy Forum 2023, pushing for united sustainability strides en route to COP28.
Read Mr. Minko's full speech here.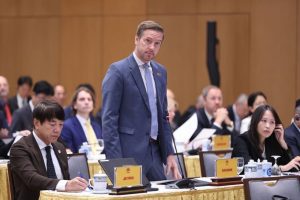 Insights from Prime Minister Phạm Minh Chính:
The PM reaffirmed Vietnam's support for FDI companies, pledging a dynamic administrative approach that centers on swift investor problem resolutions.

Vietnam is devoted to preserving investors' legal rights and is proactive in addressing challenges and leveraging opportunities together.

Investors are encouraged to develop eco-conscious, future-ready business strategies.

The government envisions close-knit collaborations with foreign entities, championing mutual gains and shared challenges.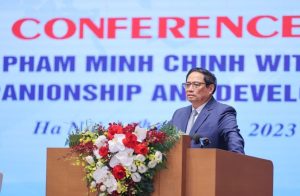 Remarks by Deputy Minister Nguyen Thi Bich Ngoc:
The Deputy Minister urged investors to contribute actively to discussions on investment policies and laws.

Investors are encouraged to champion forward-thinking, sustainable visions and connect SMEs with large multinationals for global integration.

Strengthened partnerships between corporates, academic researchers, and R&D institutions will be a cornerstone for business technological progress and continued growth.
Three EuroCham members voiced their perspectives as well.
Bruno Jaspaert, General Director at Deep C Industrial Zones, EuroCham's Gold Premium Corporate Partner:
Commended Vietnam's favorable economic policies and stability as magnets for long-term investments.

Stressed the need for more proactive policies to achieve carbon neutrality.

Advocated for incentives like extended lease terms for eco-industrial parks.

Highlighted the potential of Vietnam leading in non-financial ESG reporting.

Expressed eagerness to partner with authorities for sustainable solutions.
Gaur Dattatreya, MD and CEO at Bosch Global Software Technologies, EuroCham's Gold Corporate Partner:
Underscored the importance of R&D and digital evolution for sustainable growth.

Shared Bosch's commitment to expanding its operations in Vietnam, with plans to double its software engineering output by 2025.

Emphasized the need to nurture human capital via training and industry-academic partnerships.

Advocated for a consistent and transparent business framework and expressed Bosch's intention to assist the government in streamlining policies.
Ahmed Yeganeh, Head of Wholesale Banking at HSBC Vietnam:
Emphasized the importance of evolving Vietnam's legal and financial frameworks in line with international norms to establish an International Financial Center (IFC).

Urged for financial market diversification and measures like VND liberalization.

Stressed the significance of attracting skilled financial professionals.

Recognized Vietnam's prime position to evolve into a global IFC given its strategic advantages.
Also in attendance at the conference were Minister of Labor, War Invalids and Social Affairs Dao Ngoc Dung, Minister of Industry and Trade Nguyen Hong Dien, representatives from various ministries, branches, localities, foreign businesses investing in Vietnam, and international organizations
EuroCham is grateful to the Prime Minister and the Ministry of Planning and Investment for this platform to exchange insights, and we remain committed to nurturing the Vietnam-EU business relationship.