[Business Luncheon] e-Conomy SEA 2022
[Business Luncheon] e-Conomy SEA 2022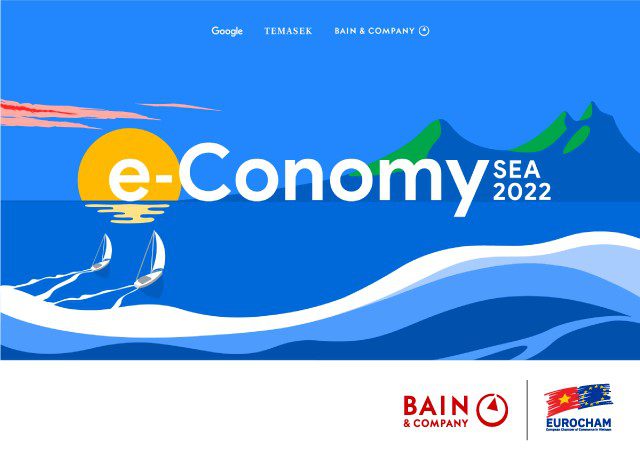 Southeast Asia's digital economy is on course to hit ~$200B GMV in 2022, three years earlier than we had anticipated in the inaugural report shared in 2016 despite current macroeconomic headwinds. Digital Financial Services has overtaken e-commerce as SEA's top investment sector and with rising awareness of ESG issues, the report includes an inaugural section on the environment and social impact of the digital economy.
While the push to $1T GMV by 2030 continues, the path to profitability has risen to prominence as an immediate priority for companies. This will mean mastering a delicate balance between price increases, cost optimisation measures, and raising cost of capital in the near term.
Join EuroCham and Bain to discuss the findings based on our latest e-Conomy SEA 2022 report by Google, Temasek and Bain. At the by-invite only lunch session, co-author of the report, Bain partner Florian Hoppe, will share key highlights on how digital economy sectors are performing across Southeast Asia, specifically:
How SEA's digital economy is on track to grow twice as fast as GDP and could reach up to $1T by 2030

What is in store for SEA's e-Conomy in 2023 in terms of the key trends across sectors and the investment landscape

What are the priorities for the sector to ensure sustainable growth, particularly across environment and social issues
The presentation will be followed by a panel discussion on the topic of Digital Economy 2023 – Path to Profitability where we discuss the opportunities, challenges and strategies on navigating uncertainty and muted growth conditions in 2023 with industry experts.
Due to the limited number of seats, registration is on a first-come, first-served basis and registration in advance is required.
To register, please send an email to Ms. Nhung at nhung@eurochamvn.org
Speakers
Andrea Campagnoli

Founding partner of Bain Vietnam

Andrea Campagnoli is the founding partner of Bain Vietnam, a leader of Bain's Private Equity practice in Southeast Asia and a co-head of Bain's Technology Private Equity for Asia Pacific.

He has more than 10 years of management consulting experience at Bain, advising clients in the technology fintech and banking sectors first in EMEA and then in Southeast Asia since 2018. Andrea has deep expertise in M&A advisory, due diligence, and strategy in Technology and Financial Services, having advised investors and senior executives globally.

Earlier in his career, Andrea spent two years as an investment professional at a European buyout fund focused on the financial services sector. He also founded and managed a sustainable fashion consumer firm called Andro Design.

Andrea holds master's and bachelor's degrees from Università Commerciale Luigi Bocconi.

Florian Hoppe

Head of Digital Practice, APAC, Bain & Company

Florian Hoppe is the APAC leader in Vector, Bain's digital delivery platform, and a senior member of our Telecommunications, Media, and Technology (TMT) practices.

He has more than 18 years of management consulting experience, working with client teams throughout Asia, Europe, and the US.

Florian primarily advises clients on topics related to their corporate strategy, digital transformation, innovation strategy, customer growth, operating model, and transformation programs.

He has co-authored several reports, and his insights have been featured in Bloomberg, Financial Times, The Wall Street Journal, and on CNBC, among others.