August 18, 2023
MOIT and EuroCham map out key events to support EU-Vietnam trade
On 15 August 2023, a delegation from EuroCham met with officials from the Ministry of Industry and Trade (MOIT)'s EU-US Markets Department in Hanoi. Attending from EuroCham were Vice-Chairman Minh Nguyen, Board Member Tri-Mai Hoang, and Head of Hanoi Office cum External Relations Van Nguyen. The MOIT delegation included EU-US Markets Department Director General Ta Hoang Linh and Deputy Director General Thao Hien.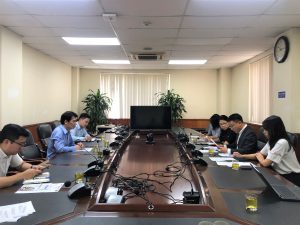 The meeting focused on collaborations between EuroCham and MOIT in the coming months. It was confirmed that an EU-Vietnam Trade Forum will take place on September 14 as part of the MOIT's Sourcing Expo being held 13 to 15 September in Ho Chi Minh City. Key topics related to customer demand, products, suppliers, production models, sustainable development, and new EU regulations will be discussed at the forum. 
If you are interested in attending, go to this link, and sign up for the conference/workshop entitled "Vietnam-EU seminar." Attendance is free-of-charge. 
This trade forum precedes the annual EU-Vietnam Business Forum scheduled for Q4 2023. EuroCham expressed support for the September event and agreed to assist the MOIT in promoting it to EuroCham members and encouraging participation.
The meeting allowed EuroCham and EU-US Markets Department officials to align on trade priorities and initiatives that will strengthen economic ties between the EU and Vietnam, while benefiting businesses on both sides. EuroCham looks forward to continued collaboration with the MOIT on events and activities that enable win-win opportunities for EU and Vietnamese investors and companies.