May 26, 2023
Addressing foreign work permit challenges: EuroCham and MOLISA hold discussions
EuroCham and the Ministry of Labor, Invalids, and Social Affairs (MOLISA) joined forces on May 26th to address the challenges surrounding work permits for foreign businesses in Vietnam. The dialogue workshop, held at Ho Chi Minh City's New World Hotel, gathered policymakers and members of the business community to discuss the revision of Decree 152, a regulation that governs foreign work permits and significantly impacts international enterprises operating in the country. EuroCham Vice-Chair Minh Nguyen moderated the event, and AmCham, BritCham, and JCCI handled co-hosting duties.
EuroCham Chairman Gabor Fluit delivered an opening speech highlighting the crucial link between Vietnam's economy and the success of foreign businesses and investors within the country. Mr. Fluit emphasized that the complexity surrounding work permits for foreign workers unintentionally hampers foreign direct investment, impedes knowledge transfer, erodes competitiveness, and stifles innovation, all of which have far-reaching effects on the national economy.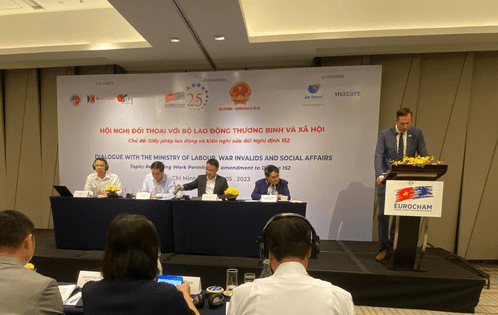 Co-Chair of the EuroCham Human Resources & Training Sector Committee, Trung Khuat, said that since the expiration of Resolution 105 on December 31, 2022, the procedures for foreign workers' work permits have become more stringent and burdensome. He then presented EuroCham's suggestions to revise key points in Decree 152.
Vu Trong Binh, Director General of MOLISA's Department of Employment, delivered a report on the amendment of Decree 152, shedding light on the government's perspective and priorities, as well as the constraints they face during the drafting process.
The workshop also featured a panel discussion, where business community representatives, MOLISA, and local DOLISAs engaged in constructive dialogue, exchanging experiences, addressing challenges, and seeking practical solutions to streamline the work permit application process.
In his closing remarks, EuroCham Vice-Chair Jean-Jacques Bouflet emphasized the essential role of European, American, British, and Japanese investors as consistent leaders in foreign investment in Vietnam, with a focus on high-quality and high-tech ventures. He highlighted investors' commitment to upholding legal compliance and prioritizing the training of Vietnamese personnel to eventually replace foreign experts, aligning with Vietnam's vision of fostering a skilled workforce.