September 12, 2023
EuroCham Vietnam engages in key talks with Luxembourg delegation to bolster EU-Vietnam economic relations
In a strategic move to fortify economic ties between Luxembourg and Vietnam, Mr. Patrick Nickels, Director General of Foreign Trade and Investments, visited Ho Chi Minh City on 11 and 12 September. This notable visit follows the foundational strides taken during Prime Minister Xavier Bettel's trip to Vietnam earlier in May and the subsequent visit of Vietnam's Finance Minister to Luxembourg.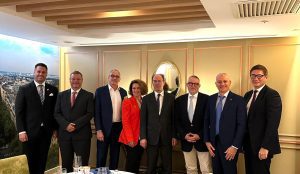 As part of the occasion, on 12 September, Luxembourg Ambassador Patrick Hemmer hosted a luncheon with EuroCham Vietnam leadership and heads of European trade offices to discuss strengthening trade and investment between the EU and Vietnam.
Attendees included EuroCham's Vice-Chairman Dominik Meichle, who also serves as Bosch's Managing Director, and EuroCham's Executive Director Delphine Rousselet.
Delegation from The Government of the Grand Duchy of Luxembourg included Patrick Nickels, Director General of Foreign Trade and Investments; Patrick Hemmer Ambassador at the  Embassy of Luxembourg in Vietnam, and Steven Koener Senior Trade and Investment Officer.
Other representatives present were Michele D'Ercole, Chairman of ICham; Bart Verheyen, Chairman of BeluxCham; Ingo Brandenburg, Board Member of GBA; and Olivier Do Ngoc, Honorary Consul of Luxembourg. 
During the luncheon, Mr. Nickels engaged with leaders of European trade organizations operating in Vietnam to gather insights on the local business climate, opportunities for increased EU-Vietnam trade and investment, and activities to promote European commercial interests in the region.