September 21, 2023
EuroCham Vietnam hosts an exclusive evening to welcome EU Ambassador-Designate to Vietnam
On 20 September, EuroCham Vietnam organized an evening reception to welcome H.E. Julien Guerrier, European Union Ambassador-Designate to Vietnam. The event reflected a shared priority of Team Europe and allowed Ambassador Guerrier to meet representatives of the European business community in Vietnam as he prepares to embark on his new role.
The reception took place at the Sofitel Saigon Plaza and was attended by over 120 guests, including EuroCham Board of Directors, Sector Committee Chairs, Business Association Chairs, Consuls General and Honorary Consuls.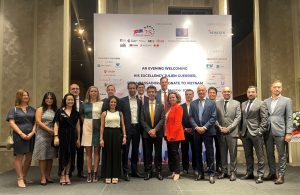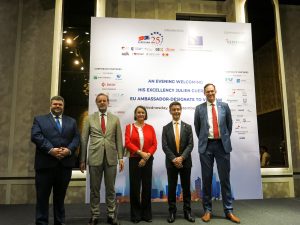 In his opening remarks, EuroCham Chairman Gabor Fluit warmly welcomed Ambassador Guerrier. He emphasized EuroCham's dedication to nurturing productive relationships and collaborations between European businesses and the Vietnamese governments.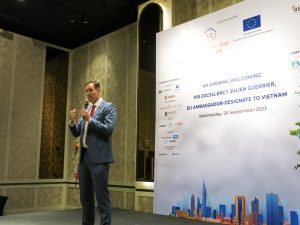 Although he is still the ambassador-designate, Ambassador Guerrier joined the welcoming evening as an initial step to kick-off his forthcoming mission in Vietnam. During his speech, he reflected on first coming to Vietnam in the early 2000s and how much the country has developed since then.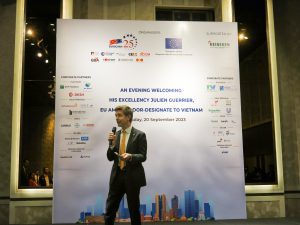 Previously serving as Director of EU's Research and Innovation programme in Brussels, Ambassador Guerrier looks forward to listening to the European business community's experiences in Vietnam. He aims to support their success and growth in his diplomatic role.
His return to Vietnam as the EU Ambassador-Designate symbolized a commitment to strengthening the bonds between the European Union and Vietnam during these dynamic times.
EuroCham was honored to host the incoming ambassador. Events like this exemplify EuroCham's role as a bridge between European companies  and Vietnam and chamber's commitment to fostering strong economic and diplomatic ties.